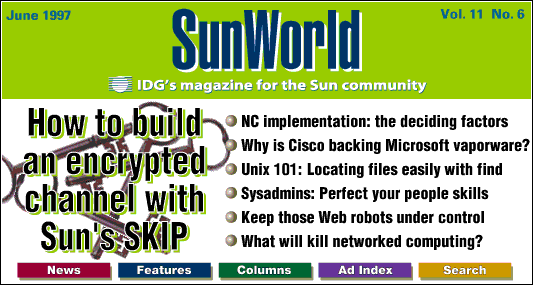 Topical index | sunWHERE? | Product Showcase | Back Issues | Sun | Ad Info | Editors | Letters

Will NC traffic kill your intranet? Find out in our NC World supplement
How does Sun's Simple Key Management for IP provide 3 levels of network security? We show you how to install SKIP and build an encrypted channel between Solaris hosts. (3,500 words)
How much money can you really save? What should you consider before implementation? We give you the figures and the deciding factors. (2,000 words)
In the first of a series on the Internet's infrastructure, we outline the players and hear about the problems straight from the mouths of users. (2,000 words)
Gage doesn't mince words as he explains why the rumored Newton acquisition will not happen, why NT, like Unix is "dead" in the long term, and how Apple's top brass is ruining the company. (1,700 words)

New virtual machine feature may prevent Java from turning into full-blown platform. (700 words)
Analysts say the merger will give Compaq credibility in the enterprise. (900 words)
SunSoft pushes subscription model, ease of use and focuses on new markets. (1,500 words)
Ross is promising high performance for 32-bit SunOS users, but is it what they want? (500 words)
Sun to drop PowerPC support, encourage SCO migration. (500 words)
What about Novell's NDS and Sun's Java Naming and Directory Interface? (900 words)
SunScript group makes beta code of new Tcl core platforms and Tk toolkit available, plans Web server as alternative to SNMP. (700 words)
The $185 million deal could save Encore and give Sun a foot in the door to the data center. (600 words)
Senate committee approves encryption bill as 56-bit DES is cracked by programmers. W3C announces Platform for Privacy Preferences project. (4 stories posted)
McNealy calls $500 NC "insulting." Also, Sun's DiskSuite-Volume Manager migration service is now available, and CORBA partners put pressure on JavaSoft to scrap RMI. (6 stories posted)
The Windows NT workstation market is growing at 25 times the Unix workstation market. Compaq leads the fray with two new workstations aimed at Sun's low end. (5 stories posted)
Your quick resource for Sun-related headlines on the World Wide Web -- including links to full-length articles.
If it runs on, plugs into, or talks to Sun, SPARC, or Solaris, it's here in the industry's most comprehensive and timely new product listing.

It takes way more than technical genius to be a successful sysadmin -- experts offer their tips for earning respect from your users and your boss. (1,200 words)
Ever had a spider bombard your Web site with page requests? Want to stop it? Want to keep parts of your site from being indexed by search engine robots? Read on. (1,900 words)
Poor planning can result in nonfunctional firewalls and broken networks. We give you a firewall implementation checklist and tell you how to stay clear of common mistakes.
Plus...The Bookstore has links to Web security resources; Bug of the Month features two buffer overflow bugs in Solaris; and The Toolbox covers a new secure telnet tool. (2,700 words)
Secret weapon now available as a free download! We tell you how a tool for visualizing TCP transfer sequences can pinpoint problems that might go unnoticed in a snoop listing or packet analyzer. (2,500 words, with 100 kilobytes of images)
ATM switches aren't all created equal. Learn how to differentiate them and pick what suits you best. (2,500 words)
Administering a rapidly expanding TCP/IP environment can be a nightmare. We show you how one company chose the right management tools and developed the right processes to dynamically assign and track IP addresses, names, and configuration files. (2,800 words)
Wired alumnus sets his sights on Silicon Valley with his retelling of the Java story. (1,500 words)
Mastering the find command can open the door to some powerful and nifty utilities. (2,600 words)
Will it be the technology? Support costs or security concerns? Nope. (1,000 words)
Networking predictions for the year 2007 and answers to your questions on DNS, swap files, reclaim memory, and more.

SunWorld is published by Web Publishing Inc., an IDG Communications company, independently of Sun Microsystems Inc., which is not responsible for its contents. The opinions expressed in SunWorld are those of the authors or the publisher, WPI/IDG, and do not necessarily reflect the opinions of its advertisers, or of Sun Microsystems, Inc. or its affiliates.
If you have general comments about SunWorld, contact sweditors@sunworld.com
If you have problems with this magazine, contact webmaster@sunworld.com To reach Sun Microsystems directly, contact webmaster@sun.com.
URL: http://www.sunworld.com/swol-06-1997/swol-06-toc.html
Last modified: