Click on our Sponsors to help Support SunWorld

Ross Technology emerges from reorg with new workstation line

Ross is promising high performance for 32-bit SunOS users, but is it what they want?

By By Robert McMillan
San Francisco (June 6, 1997) -- On Monday Ross Technology will unveil a new line of SPARCplug workstations it hopes will give a performance boost to the installed base of SunOS users. With pricing starting at $4,500 Ross hopes its product will appeal to Sun customers looking to upgrade to either the SPARCstation 20 or the low end of the UltraSPARC line.
Ross will also announce a four-processor model of its 200-MHz hyperSTATION and a quad 200-MHz hyperSPARC CPU upgrade for Sun SPARCstation 20 users.
Ross has carved out a niche for itself, selling its high performance, 32-bit hyperSPARC processors, mainly through OEM customers like Sun or Fujitsu (which both own a stake in Ross), to SunOS users unwilling or unable to migrate their applications to the UltraSPARC's 64-bit architecture. Ross says that nearly half of Sun's installed base is still running SunOS, which makes for a large, if shrinking market for systems like the SPARCplug.
But Ross marketing director, John Rasco, admits his company was caught off guard by Sun's aggressive promotion of its UltraSPARC line, and he says that at the "early part of last year it suddenly dawned on us that Sun might go away as a customer." Later that year Ross was forced to write off $37 million in inventory, largely on account of sluggish OEM sales, according to company SEC filings. "What we had not really anticipated," continues Rasco, "was that Sun would be trying to incentivize their migration to Ultra."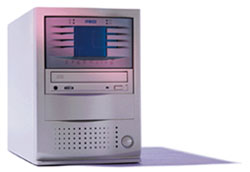 Ross SPARCplug Station
Since then, Ross has reshuffled its top brass in a series of moves that began with the resignation of founding CEO Roger Ross last March. In May, Jack Simpson, Sr. was recruited from Scientific-Atlanta to replace Ross.
IDC analyst Keren Seymour questions whether Ross's strategy will pay off in the long term. "They do have an opportunity to go after some Sun installed base," she remarks, "but it's a really small opportunity, and I don't see the chances of a business surviving based on that opportunity." Rasco counters that Ross has a long-term strategy to productize its 64-bit RISC processor, code-named Viper, sometime in 1999.
The SPARCplug Station systems will begin shipping on July 1, 1997. They will feature SunOS and Solaris compatability and vary in configuration from 100- to 180-MHz hyperSPARC CPU, 64 to 256 megabytes of RAM, 2.1-gigabyte hard disk with SCSI 2 serial interface, 10 Base-T Ethernet, 8-bit audio, FDD interface, 2 RS-232 or RS-423 peripheral ports, and 6X CD-ROM. Pricing will range from $4,500 to $8,500.
The quad hyperSTATION will start at $28,000. The upgrade will cost $19,000. Both will be available as of June 9, 1997.

Click on our Sponsors to help Support SunWorld
Resources
---
If you have technical problems with this magazine, contact webmaster@sunworld.com
URL: http://www.sunworld.com/swol-06-1997/swol-06-ross.html
Last modified: