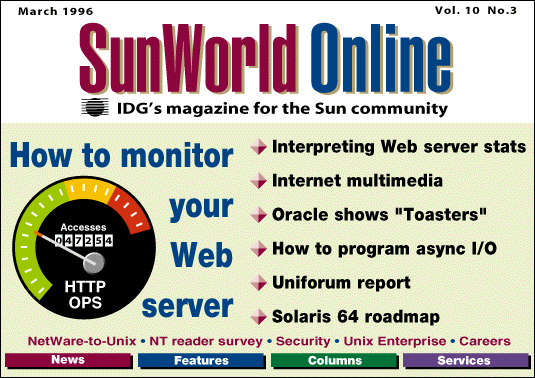 Information | Subscribe | sunWHERE? | Sun | Letters | Editors | Adsales | Back Issues


Table of Contents
Last updated 1 March, 1996
Caldera will offer SunSoft's Wabi on its Linux-based Caldera Network Desktop...And catch up on other Sun- and Java-related news. (1,200 words)
SunSoft plans to add 64-bit features a step at a time to assure compatibility and (hopefully) avoid bugs. (1,100 words)
A roundup of events at last month's Uniforum trade show. (1,100 words)
Oracle CEO Larry Ellison showed mock-ups of a family of network computers that the company hopes will provide a cheaper way to access network resources such as the World Wide Web. We also offer a brief sidebar on Japanese firms developing their own Internet terminals. (2,100 words, including a sidebar)
Following yet another redefinition of Next's charter earlier this month, Steve Jobs met with press and customers on a rainy day in San Francisco to showcase NeXT's forthcoming application development tool for the Web. (1,100 words)
The idea of Sun buying Apple isn't so crazy after all, according to our survey of SunWorld Online readers. (900 words) Also, reader comments. (25,000 words)
If it runs on, plugs into, or talks to Sun/SPARC/Solaris, it's here, in the industry's most comprehensive and timely new-product listing.

Delivering multimedia on the Internet By George Lawton

A look at Internet multimedia and 3D technology. (4,800 words)

Programming asynchronous I/O in Solaris 2 by Steve Leung

Programming asynchronous input/output (AIO) requires a lot of effort in design and coding. But software using AIO can outperform its synchronous I/O counterpart by as much as 50 percent. (5,100 words, including 2 sidebars)

NetWare-to-Unix connectivity by Ken Phillips

Some think melding Unix and NetWare is tricky business, but it is easier than one might imagine. We look at three products that handle the grunt work. (2,500 words including two sidebars)

What security bugs could affect you? And how can you stomp them out? (1,900 words)
An exposé of the legal liabilities and responsibilities of system administrators. (3,000 words)
How you can monitor your Web server's performance and what you can do about it. (4,000 words)
Knowing the details might make remote connectivity a much more realistic option for you. (1,800 words)
Web-aware database development tools promise to make client/server app deployment easier. (2,200 words)
It's time to set your organization's technology standards, policies, and disciplines. (2,100 words)
Deciding when to bail from a job is never easy. Here's how. (1,400 words)
How to interpret server statistics and when they can (and can't!) be used. (2,300 words)
Visit our sister publication JavaWorld to learn everything you wanted to know about Java but were afraid to ask.
SunWorld Online is published by Web Publishing Inc., an IDG Communications company, independently of Sun Microsystems Inc., which is not responsible for its contents. The opinions expressed in SunWorld Online are those of the authors or the publisher, WPI/IDG, and do not necessarily reflect the opinions of its advertisers, or of Sun Microsystems, Inc. or its affiliates.
If you have general comments about SunWorld Online, contact editors@sunworld.com If you have problems with this magazine, contact webmaster@sunworld.com To reach Sun Microsystems directly, contact webmaster@sun.com.
URL: http://www.sunworld.com/swol-03-1996/swol-03-toc.html
Last updated: 1 March 1996