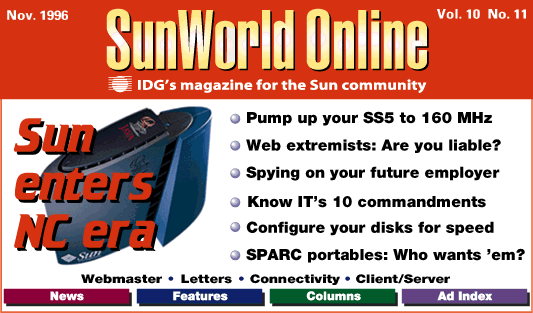 Information | sunWHERE? | Sun | Ad sales | Editors | Product Showcase | Back Issues
Sun unveils its Java-powered Network Computer. (1,400 words)
Novell will license Java WorkShop for its IntranetWare. (900 words)
Company wants NDS universally adopted for directory-based applications. (500 words)
Company's network computer strategy takes shape. (400 words)
Oracle announces Network Computers and Java-powered software at the OpenWorld user conference. (1,900 words)
Microsoft tries to steal Network Computer thunder with promise of a `lite' Windows, sealed PC. (1,100 words)
Fujitsu offers TurboSPARC upgrade module for 400,000 SPARCstation 5s. (500 words)
High-availability, application software integration key pieces to start-up's strategy. (800 words)
New server company combines three SPARCstation 5-class motherboards in one computer it promises will never fail. (800 words)
Unix-to-PC connectivity still ain't easy (1,200 words)
Java-based "smart forms" will calculate mailing costs. USPS to start `electronic postmark' service. (600 words)
Competition with CORBA and Microsoft signals trouble ahead. (400 words)
If it runs on, plugs into, or talks to Sun/SPARC/Solaris, it's here, in the industry's most comprehensive and timely new-product listing.

The Net and extremists: Where does the responsibility fall? by Barry D. Bowen

Should Web publishers and Internet Access Providers be held liable for illegal or offensive online content? (3,200 words including a sidebar)

Cute as a button, but who wants 'em? by Michael Jay Tucker

SPARC notebooks seem like a good idea at first glance. Is there really a market for tiny workstations? (2,400 words)

When client/server goes critical, vendors cluster by Philip J. Gill

To rival and beat mainframe reliability, Unix vendors push clustering for high availability, scalability, and performance. (2,000 words)

Conduct research (and lots of it) before a job interview. Here's what to look for. (1,800 words)
Dynamic document content is easy with server-side includes. (1,750 words)
Learn how to secure Solaris and much, much more! (8,000 words)
RAID? Journals? Stripes? Mirrors? SLEDs? There are many ways to configure disks for servers. Here's how to choose the right mix. (2,200 words)
Emerging standards herald a new era of network management through the Web. (1,900 words)
Intranet applications require new kinds of development environments. (2,100 words)
We collect our teachings into an easy-to-remember form. Follow these commandments to achieve IT perfection.
(1,200 words)
Is there too much free speech on the Internet? Tell us what you think.
System administration and performance are on your minds.

SunWorld Online is published by Web Publishing Inc., an IDG Communications company, independently of Sun Microsystems Inc., which is not responsible for its contents. The opinions expressed in SunWorld Online are those of the authors or the publisher, WPI/IDG, and do not necessarily reflect the opinions of its advertisers, or of Sun Microsystems, Inc. or its affiliates.
If you have general comments about SunWorld Online, contact editors@sunworld.com If you have problems with this magazine, contact webmaster@sunworld.com To reach Sun Microsystems directly, contact webmaster@sun.com.
URL: http://www.sunworld.com/swol-11-1996/swol-11-toc.html
Last updated: 18 November 1996