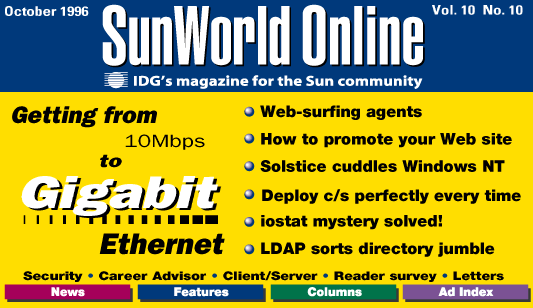 Information | sunWHERE? | Sun | Ad sales | Editors | Product Showcase | Back Issues
And servers, software, storage debut. (1,100 words)
Unix Expo: The world of openness and choice according to Microsoft. (700 words)
Applications will target automated voice response and directory services. (250 words)
Faster bus, better software bolster Sun's cluster line. (700 words)
Java-chip machines should appear next year. (500 words)
A walk through Networld+Interop reveals a faster network need not cost a bundle. (1,800 words)
Invigorated Solstice management tool to lord over Windows NT. (800 words)
Companies integrate Internet with corporate desktop. (800 words)
Why are UltraSPARC and CDE hits with readers? Darned if they know. (1,100 words)
Hacker programs shut down servers, delete newsgroup postings. (500 words)
Cancelbot programs cause havoc. (500 words)
Suite of applications designed for network computers. (300 words)
Geoplex will be launched next year. (100 words)
If it runs on, plugs into, or talks to Sun/SPARC/Solaris, it's here, in the industry's most comprehensive and timely new-product listing.

To rival and beat mainframe reliability, Unix vendors push clustering for high availability, scalability, and performance. (2,000 words)
Developers working on agents that will surf the Internet for you while you sleep. (2,500 words)
Lightweight Directory Access Protocol promises good method for accessing different directories. (2,700 words)
Scripts and methods for sifting through tons of newsgroups to find a speck of wisdom. (3,800 words)
SunService makes a comeback. (1,700 words)

Singing the praises of small town life, more on negotiating salary and benefits.
(1,800 words)
If you build it, will they come? Here's how to leave a trail of bread crumbs leading back to your Web site. (1,950 words)
Getting a grip on NIS+'s security features. (2,800 words)
The remote laptop's files are trashed. The executive is panicking -- she needs them for a presentation. What do you do? (2,500 words)
Our detective uses the new Solaris 2.5 trace system to track a puzzling disk activity report. (3,000 words)
Lightweight Directory Access Protocol promises serious, nimble directory service. (1,800 words)
Intranet applications require new kinds of development environments. (2,300 words)
An update on how to deploy mission-critical client/server applications.
(1,300 words)
Tell us what you think about PC connectivity.
System administration and performance are on your minds.

SunWorld Online is published by Web Publishing Inc., an IDG Communications company, independently of Sun Microsystems Inc., which is not responsible for its contents. The opinions expressed in SunWorld Online are those of the authors or the publisher, WPI/IDG, and do not necessarily reflect the opinions of its advertisers, or of Sun Microsystems, Inc. or its affiliates.
If you have general comments about SunWorld Online, contact editors@sunworld.com If you have problems with this magazine, contact webmaster@sunworld.com To reach Sun Microsystems directly, contact webmaster@sun.com.
URL: http://www.sunworld.com/swol-10-1996/swol-10-toc.html
Last updated: 16 October 1996