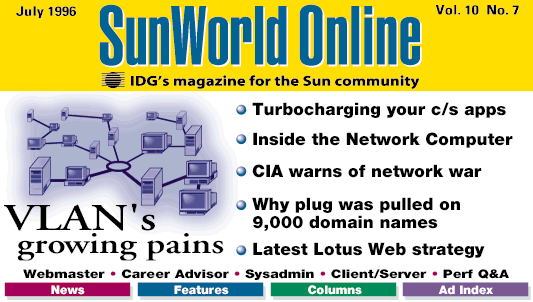 Information | sunWHERE? | Sun | Ad sales | Editors | Product Showcase | Back Issues
Military hackers to wage bloodless Blitzkrieg on Internet. (2,100 words)
Two to work together to sell GTE telecom management software. (200 words)
Zimmerman's PGP Inc. acquires marketer of PGP software. (500 words)
Combined products will let system integrators build WWW-based intranets. (400 words)
Readers' opinions on Solaris tools and application availability, CDE, Wabi, and more. (1,250 words)
A new center at the NSA may be formed. (100 words)
IETF will create market for buying and selling of Internet addresses. (300 words)
SAIC Network Solutions dumps delinquent URLs. (200 words)
Company sees Domino II as broadening Note's reach. (800 words)
If it runs on, plugs into, or talks to Sun/SPARC/Solaris, it's here, in the industry's most comprehensive and timely new-product listing.

Lack of standards and network management still problematic. (2,600 words)
Vendors pitch it as both an inexpensive Internet access device for consumers and a serious desktop productivity terminal for intranet use. (2,300 words)
A step-by-step guide to troubleshoot application response problems on Unix-based systems. (4,600 words)
Sun planet will grow microprocessor market with Java chips. (2,400 words)

This product filters device & file access system calls and scrutinizes them for malicious behavior. (2,500 words)
A third installment of automounter secrets (3,300 words)
Optimizing C and FORTRAN programs for UltraSPARC is easy, but do you have to? (3,200 words)
A new label for not-so-new hardware and software options (1,700 words)
What Borland's acquisition of Open Environment really means (1,700 words)
Sell your users an Internal Support Agreement, but get your IT house in order first (700 words)
The rush to find Java programmers and Webmasters brings out novice headhunters (900 words)
How to fine tune access to each directory on your server (2,000 words)
Visit our sister publication JavaWorld to learn everything you wanted to know about Java but were afraid to ask.

SunWorld Online is published by Web Publishing Inc., an IDG Communications company, independently of Sun Microsystems Inc., which is not responsible for its contents. The opinions expressed in SunWorld Online are those of the authors or the publisher, WPI/IDG, and do not necessarily reflect the opinions of its advertisers, or of Sun Microsystems, Inc. or its affiliates.
If you have general comments about SunWorld Online, contact editors@sunworld.com If you have problems with this magazine, contact webmaster@sunworld.com To reach Sun Microsystems directly, contact webmaster@sun.com.
URL: http://www.sunworld.com/swol-07-1996/swol-07-toc.html
Last updated: 1 July 1996