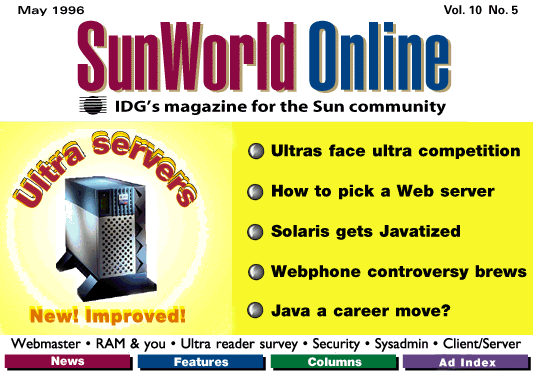 Information | sunWHERE? | Sun | Ad sales | Editors | Product Showcase | Back Issues
Sun will acquire the SPARC/Solaris-related assets of Cray Research Inc. (200 words)
Java's long shadow influences vendor product plans. (400 words)
Resource Reservation Protocol seen as path to better Internet telephone service. (700 words)
With high-bandwidth Ultra Enterprise servers, Sun sets its sights on mainframes, HP, and IBM. (2,100 words)
Sun pushes a server strategy to gain enterprise market share. (1,300 words)
New Sun chief technical officer says bus bandwidth increases at 100 percent per year. (900 words)
Vendors plan to add Java capability to their operating systems. (300 words)
Novell chief Robert Frankenberg plots the company's course of survival. (1,000 words)
Plain old databases don't excite our readers, but Web technologies and Java do. (1,300 words)
If it runs on, plugs into, or talks to Sun/SPARC/Solaris, it's here, in the industry's most comprehensive and timely new-product listing.

Users around the globe discover magic data access formula. (1,700 words)
We compare Apache, NCSA httpd, and Netscape's Web server. (2,900 words including two sidebars)
The rapid pace of technology is forcing legal eagles to play catch up. (1,700 words including one sidebar)
With interest in Sun and its vision of the "network is the computer" at an all-time high, SunSoft is set to proliferate its product line. (2,900 words)
US, overseas carriers disagree on the impact of Internet telephony on conventional telephone service. (2,300 words, including one sidebar)

Secure your Solaris Web server from the perils of the void, part 2. (2,700 words)
Use the automounter to chart a course through rough NFS seas (3,900 words)
Determining the right amount of RAM for your Unix computer requires a little detective work. (1,900 words)
Why you may or may not switch to the Web PC. (1,900 words)
NeXT and Illustra introduce object-oriented Web development tools. (1,700 words)
Deploying client/server technology is too difficult to attempt without a proper infrastructure. (900 words)
Java is no gimmick. Ignore it at your career's peril. (900 words)
Who's linking to your pages? Your server's referrer log has all the clues. (2,100 words)
Visit our sister publication JavaWorld to learn everything you wanted to know about Java but were afraid to ask.

SunWorld Online is published by Web Publishing Inc., an IDG Communications company, independently of Sun Microsystems Inc., which is not responsible for its contents. The opinions expressed in SunWorld Online are those of the authors or the publisher, WPI/IDG, and do not necessarily reflect the opinions of its advertisers, or of Sun Microsystems, Inc. or its affiliates.
If you have general comments about SunWorld Online, contact editors@sunworld.com If you have problems with this magazine, contact webmaster@sunworld.com To reach Sun Microsystems directly, contact webmaster@sun.com.
URL: http://www.sunworld.com/swol-05-1996/swol-05-toc.html
Last updated: 17 May 1996