Click on our Sponsors to help Support SunWorld

UltraSPARC powers Sun's next wave

Admitting recent machines offered lukewarm performance, Sun hopes new UltraSPARC-powered workstations leap-frog their competitors.

By Mark Cappel
---
Abstract
On November 7, Sun Microsystems announced the Ultra 1 and 2, which are based on the new UltraSPARC CPU. Both lines boast several innovations, including a high-speed switched design, speedy graphics, and 100 megabit-per-second Fast Ethernet. The Ultra 1 offers outstanding performance for the price, while a dual-CPU Ultra 2 tops all other computers in the SPEC92 floating-point benchmark. (2,200 words)
---
In the brutally binary world of computer performance, you're either the hero or one of the goats. For the last five years, Sun has viewed the world from amid the herd. Meanwhile, Digital, HP, and SGI took turns lobbing SPEC-wrapped insults at the market-share leader.
No more. (At least until the next workstation announcement.) Sun unveiled two new computers November 7 that place Sun at both the pinnacle of the sub-$20,000 "sweet-spot" of the workstation market, and at the top of the CPU performance game for any single-CPU computer. Dubbed the Ultra-1 and Ultra-2, both are powered by 64-bit versions of Sun's SPARC CPU. The slower Ultra-1, for example, boasts a SPECint92 of 252 and a SPECfp92 of 351. By contrast, Sun's SPARCstation 20 powered by a popular 50-MHz SuperSPARC+ chip totters along at about 70 SPECint92 and 80 SPECfp92.
Both the Ultra 1 and 2 are desktop computers of the "pizza-box" industrial design school. The Ultra 1 is a single-CPU computer approximately the size of a SPARCstation 20, while the MP-capable Ultra 2 is slightly taller to allow more room for a second UltraSPARC.
Sun is offering three models of the Ultra 1. The model 140 consists of a 143-MHz CPU, 32 megabytes of RAM, (Sun claims old SPARCstation 20 SIMMs will work fine), a 1 gigabyte disk, and a 17-inch color monitor. It lists for $16,495, a price that drops to about $12,000 with quantity discounts. The Ultra 1 Creator 170E consists of a 167-MHz CPU, 64 megabytes of RAM, a 2 gigabyte disk, a 20-inch color monitor, and 2D graphics. It lists for $25,995. The Ultra 1 Creator3D 170E sports the same features as the Creator 170E but 3D graphics features. IT lists for $27,995
The Ultra 2 Creator 3D 2200 comes with a pair of 200-MHz UltraSPARC CPUs, 256 megabytes of RAM, a 4 gigabyte hard disk, and 20-inch monitor. It costs $59,995. With a multi-threading, multi-processing SunSoft compilers, the Ultra 2 generates 332 SPECint92 and 505 SPECfp92, the highest recorded floating-point SPEC92 results.
Sun did not reveal any new desk-side servers or multi-processing machines beyond the two-CPU Ultra 2. However, Sun officials said the company would announce UltraSPARC-based servers early next year, along with less-expensive UltraSPARC models.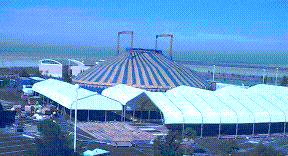 Under the Big TopSun covered a parking lot at the company's new headquarters in Menlo
Park, CA with a circus tent as the venue for the first showing of its UltraSPARC-based computers. More than 1,500 people attended the event in Menlo Park. Thousands more at major cities and customer sites throughout the US and abroad were expected to watch the event via satellite down-links. (See SunWorld Online's story "Ultra Computing debut: You are there" for a look under the tents.)
---
Advertisements
---
SPARC history, abridged version
To divine the significance of Sun's latest desktop computers, one must understand how the company lost its lead in a market where performance means more than adolescent bragging rights. Back in 1983, Sun Microsystems started selling a powerful (for its day) desktop computer that, combined with Unix, offered almost as much power as a minicomputer at a fraction of a mini's cost. Sun improved on the idea incrementally until 1989, when it stunned the workstation market with the SPARCstation 1, a blazingly fast and dirt-cheap desktop computer sporting the compact "pizza-box" cabinet design that still sets the industrial-design standard in the Unix workstation world.
Sun improved the performance of the SPARCstation 1 incrementally, then revealed the ambitious SPARCstation 10, an innovative computer family hobbled by a jinxed SuperSPARC chip that never fulfilled its performance promises. Theories explaining SuperSPARC's lackluster numbers abound: Sun pushed the state of the art too far in creating an MP-capable chip; SuperSPARC's BiCMOS design was too difficult for Texas Instruments to produce in large quantities; Sun employed too many contract-engineers who just wanted to complete the layout and didn't care about improving performance later; Sun used unsophisticated simulation tools that measured functionality but not performance.
Two related SPARCstation 10 and 20 features did work well: do-it-yourself processor upgrades and multiprocessing capability. Unfortunately, the SuperSPARC chip started its life lacking in processing power and never caught up to competitors, and few desktop applications could take advantage of the SPARCstation 10 and 20's MP abilities (though more are with time). Fortunately for Sun, Fujitsu subsidiary Ross Technology stepped into the breach with its own SPARC chipset, called HyperSPARC, which outperforms SuperSPARC. Lately, Sun's top-performing SPARCstation 20s have been powered by 150-MHz HyperSPARCs.
While the SPARCstation 10 and 20 were innovative computers, their lack of alacrity gave Sun a black-eye in a market where clever features are appreciated but speed rules. Perhaps to calm the nerves of SPARC users who remember Sun's inability to rev-up SuperSPARC, Sun offered a surprise sneak preview of a 200-MHz UltraSPARC-driven Ultra 2, saying the machine would be ready for sale soon. In a morning press conference, Sun officials said Texas Instruments, UltraSPARC's fabricator, is sampling chips a rates higher than 200 MHz.
"STB (the group at Sun responsible for chips) is increasing UltraSPARC's (clock rate) faster than we can inhale them," said Ed Zander, Sun's president.
A clean slate
Sun's engineers started work on the "Fusion" project in 1991. Sun's top technical people, including Ken Okin, VP of engineering for desktop products, and Sun founders Andy Bechtolsheim and Bill Joy gathered in Aspen, CO to hash-out the design for Sun's next desktop (the SPARCstation 10 design was already nearing completion at that time). They knew about plans for a 64-bit SPARC chip (code named "Spitfire"), and Sun's effort to release a new version of Unix, which became Solaris 2. The rest of the design was up for grabs.
To open up the internal pathways for greater data throughput, they decided on a then-controversial switched architecture instead of a bus. (A bus is roughly equivalent to a home plumbing system. A switch is akin to a telephone company digital PBX.) A switch, while more difficult to design than a bus, allows tremendous throughput (1.3 gigabytes per second) when compared to the SPARCstation 10's 100 megabytes per second.
The engineers decided Fusion needed faster graphics, an area where Sun suffers a poor reputation. Improvements here came on several fronts. Within UltraSPARC itself is MPEG decoding circuitry, which cuts the amount of processing cycles required to display a movie by a factor of three. More basic graphics speedups came from an unexpected source: a RAM maker. Sun and Mitsubishi worked together to create 3D RAM, which combines the strengths of DRAM, SRAM, and video RAM to create a frame-buffer that works well with 2D wire frames and 3D polygons.
Since workstations are inherently networked devices, some models of the Ultra 1, and all Ultra 2s come with 100 megabit per second Fast Ethernet, a backwards-compatible version of Ethernet with ten times the throughput. (For more information about Ultra 1 and 2's design, see SunWorld Online's related hardware profile.)
What's new in Solaris
The new OS checks for the UltraSPARC. If it finds it, Solaris exploits the CPU's advanced features by using optimized math libraries and implementing UltraSPARC-specific algorithms that, aside from being tuned for multiprocessing and multithreading, are designed to keep all of the UltraSPARC's components as busy as possible.
SunSoft officials claim Solaris 2.5 performs better in terms of user "feel" and in NFS server duties. The operating system supports up to 64 processors, and supports most popular naming services, including DCE, ONC, and DNS. The new operating system is missing OpenGL, a popular graphics library Sun announcement support for several months ago. Sun says it will offer OpenGL in a developer's release.
For all of its enhancements, Solaris 2.5 is a 32-bit operating system that does not take advantage of the immense addressing possible with the 64-bit UltraSPARC chip. Sun promised to add 64-bit extensions when the Intel-led 64-bit Unix consortium agrees on a standard. (For more about what's new in Solaris 2.5, see SunWorld Online's related story.)
Software developers happy
"Ecstatic" might be a more accurate term. While Sun has maintained a very good sales volume, considering its lethargic performance, the new machines look to increase sales markedly. (See "UltraSPARC excites VARs and ISVs", a SunWorld Online story.)
Anil Gadre, vice president of worldwide marketing at Sun, said the company will now focus on 3D mechanical CAD and geophysical exploration. "We've done just fine with 2D mechanical CAD with the SPARCstation 5 and 20," Gadre said. "But the 3D world is something HP has been able to have a much bigger share of."
As for oil-and-gas, "That is again an area, because of better floating point performance and 3D, Silicon Graphics and HP have had a better share of that space," Gadre said. "Landmark Graphics, Shell Oil, Exxon, and so on are going to be extremely happy with us. We know that from talking to them already."
Zander speaks
In an exclusive Interview with SunWorld Online, Sun president Ed Zander covered a range of topics including when Sun will ship a 64-bit version of Solaris, the future of NT, HP, SCO, UnixWare, and the Pentium Pro, how Sun will make money with Java, and when users will see computers using the UltraSPARC-II chip.
"We really wanted to bring us back to our roots, bring it back to the valley, bring it back to our employees, and more importantly bring it to our customers who have stayed with us in the technical market for the last ten or twelve years," Zander said. "We got lucky because the Cirque de Soleil had some extra tents." (We offer the complete text of Zander's interview in another story in this issue.)
In other news
Sun slashed SPARCstation prices on the SPARCstation 5 by 20 percent and its SPARCstation 20 family by 15 percent while introducing new version with more competitive CPUs.
"We will continue to increase price/performance with price reductions, and continue to improve and add more value to our SPARCstations" said Les Poltrack, group manager of SMCC advanced desktops.
The SPARCstation 5, reported by SMCC to be the best-selling workstation with more than 100,000 units sold, has dropped in price from $11,395 to $8,995 to match competitive computers from Hewlett-Packard and others.
Priced at $4,295, the SPARCstation 4 model 110 is based on the 110-MHz microSPARC II CPU to provide 20 percent more processing power than its predecessor, the model 85. SMCC is discontinuing the 85-MHz model
The SPARCstation 4 model 110 comes with 32 megabytes to 160 megabytes of RAM and 1 gigabyte to 56 gigabytes of disk capacity.
The new SPARCstation 20 family offers both uniprocessor and multiprocessor capabilities based on the 150-MHz HyperSPARC. The new SPARCstation TurboGX model 151 comes with 512K of cache, 32 megabytes of memory expandable to 512 megabytes, a 1 gigabyte disk drive expandable to 353 gigabytes, four SBus expansion slots, accelerated graphics, and a 20-inch monitor for $18,995.
The uniprocessor SPARCstation model 151 promises 169.4 SPECint92 and 208.2 SPECfp92 while the dual-processor 152MP model features 7310 SPECrate_int92 and 8758 SPECrate_fp92.
--(Cynthia Kurkowski provided additional reporting)

Click on our Sponsors to help Support SunWorld
Resources
SunWorld Online's interview with Ed Zander /sunworldonline/swol-11-1995/swol-11-fusion.zander.html
---

If you have technical problems with this magazine, contact webmaster@sunworld.com
URL: http://www.sunworld.com/swol-11-1995/swol-11-fusion.intro.html
Last modified: