Click on our Sponsors to help Support SunWorld

Ultra Computing debut: You are there

`The things [Sun] does to sell computers these days'

By Erica Liederman
---
Abstract
While Sun would not disclose how much it spent to roll out the Ultra 1 and Ultra 2, the event at its new Menlo Park, CA, headquarters involved a countless number of Sun employees, as well as set designers, builders, landscape architects, HVAC specialists and even the Menlo Park fire department.

We offer a glimpse of the Nov. 7 rollout fandango, told in numbers, in a sidebar below.

In another sidebar below, Sun's users offer their opinions on Sun's newest computers.

(2,100 words, including two sidebars)
---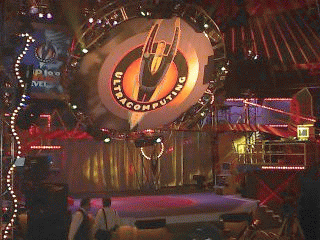 Inside the 20,000 square foot Cirque du Soleil tent, an audience of 1,500 press, customers, and VARs waits with bated breath for the show to begin. Ten room-sized video monitors shed a pulsating blue light into the soft darkness. A single spotlight illuminates a dreadlocked guitarist onstage. (We learn later he is a former Sun employee who worked in Sun's customer service department for five years before leaving to follow his true calling)

Listening, he tests the timbre of his instrument, experimentally plucking a single acoustic string against the backbeat reverberation of synthesized new-age drums. We see from his expression that the guitar is not good enough. He puts it down, picks up an electric model that lies nearby and strums a few bars from "Stairway to Heaven." It too is inadequate.

Then he spies an elaborate instrument, crafted and painted to look like the UltraSPARC logo leaning against a tent support -- a man, stylized, bespectacled, business suited, legs tapering into flames of rocket fire as if he were launched from a cannon. With movement and gesture that seem almost worshipful, the guitarist lifts the new instrument, strokes the strings, and soars into electronic ecstasy reminiscent of Hendrix. Fireworks spout from the top of the fingerboard and from invisible vents in the steel railings above the stage. Music pounds and reverberates, blue, white, and yellow lights flash throughout the blue tent's interior.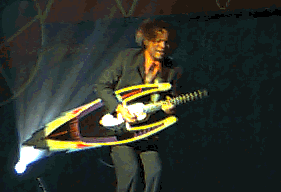 A computer generated animation of "Ultraman" flying over landscapes and cityscapes dances across all the video screens simultaneously. A voiceover declares the beginning of a new era in computing. In a stream of fire, a cacophony of smoke and flame, Ed Zander, Sun's president, appears onstage, and shakes the hand of the guitarist. "The things [Sun] does to sell computers these days," he tells the audience.
Beside the bleacher where I sit, a lanky Menlo Park fireman waves away smoke, and speaks quietly into his walkie-talkie.
The show has finally begun.
---
Advertisements
---
Creating a happening
Sun's introduction of its UltraSPARC line of workstations -- and its concomitant celebration of the new Java programming language -- was the most elaborate, most expensive, and certainly the most widely broadcast of any of its product introductions to date. It rivaled the most elaborate of product announcements staged in the 80s: Apple's introduction of the Macintosh Plus. For that occasion, Apple hired Huey Lewis and the News. That event's manager, now retired, spent a budget of $5 million for the show and party. (Sun won't say how much it spent on the UltraSPARC event.)
"There were lots of technical challenges," said Christina Crawley, president of the Kenwood Group, the Ultracomputing show's principal producer. Among them, "making surround sound happen in a tent so that everyone can hear it and at the same time the mikes will pick it up for broadcast." Building the tent, stage, and seating from the ground up in Sun's parking lot presented its own problems.
"The parking lot isn't level. It's sloped in places so that water will run off when it rains. We had to shore up one side and build an extra few feet of foundation so that people wouldn't be sliding off the bleachers."
Trees in the ointment
Slope was not the only problem with the show's location. Sandy Langelier, Sun's Marketing Communication manager who was in charge of arranging every detail of the event -- from sending out 100,000 invitations to coordinating the speakers, performers, caterers, banner-hangers, and stage builders -- in short, the event's entire execution, also had to spend a considerable amount of energy navigating the touchy problem of the trees.
"We had to take out the landscaping, the trees they planted in the parking lot, to make room for the Cirque tent. Some employees got upset when they found out we were doing that. We said we'd preserve them, but you can't just leave trees lying around with their roots bare for a week. We eventually found homes for all the trees. When the tent is taken down, and the whole thing is over, they're going to plant new ones."
Making the message heard worldwide
To make sure its Ultracomputing message was heard around the world, Sun arranged to broadcast the announcement via satellite link to countries as diverse as Argentina, the Czech Republic, Denmark, France, Hungary, Italy, and Taiwan, to name just a few. And for those countries where broadcast was for some reason not possible (Dubai, South Africa, the People's Republic of China, for example) kits containing art files, set designs, video, and audio tracks of the Menlo Park event were sent out by the international marketing communications organization so that local sales offices could put on their own shows. In addition, the event was broadcast to 46 sites in the U.S. and Canada.
Denise Marcucci was responsible for creating the international broadcasting system the made the show visible around the world. She booked time on six communications satellites for the morning of November 7.
"There are multiple downlinks for each of the satellites. We have a database of sites, places where Sun has broadcast events before and they pass technically," Marcucci said a few days before the show. "They can receive the signal." But other sites would also receive the signal. "We're broadcasting to 31 customer sites. There's no telling how many secondary sites they're in turn sending the signal to. They have their own satellite downlink networks... There's no telling how many people are viewing. 30,000 have registered, but that doesn't mean anything."
Inside the broadcast truck on the day of event, surrounded by monitors that pictured signals from each of the cameras onstage as well as the signal beamed skyward to the SBS 5/12 satellite, and the picture as it appeared once received and broadcast to transmitters in Staten Island, Washington D.C., Denver, and Salt Lake City for worldwide transmission, Marcucci had her technician turn up the audio monitor on the director's microphone. Within a few moments, the content of the monitors, what was being said and demonstrated onstage inside the tent, became secondary to the staccato sound of the director's voice, accompanied by the quick changes of point of view as the feed switched from camera to camera to camera.
"That's one of the ironies of doing this," Marcucci said. "They always make me sign non-disclosures for these things. But once a broadcast gets underway, all I hear are camera directions, and all I see is whether what is going up and what is coming down are the right thing. They could be saying or doing anything."
Back inside the tent after the show is over, and the audience has left the big top for the smaller breakout sessions, a group of sound technicians, stage hands and producers sit in exhaustion on the bleachers near the stage.
"You pulled it off," said one of the techs to an exhausted woman producer. "You did it."
"I'm changing careers," said the producer. "I'm finding something else to do."
"You know," reflected the technician in reply, "the problem is this is a one-show pony. You build everything from the ground up for this one venue and then you don't use any of it ever again."
--Erica Liederman

Click on our Sponsors to help Support SunWorld

If you have technical problems with this magazine, contact webmaster@sunworld.com
URL: http://www.sunworld.com/swol-11-1995/swol-11-fusion.event.html
Last modified:

Sun's November 7 rollout fandango told in numbers
Number of invitations sent to partners, customers,VIPs and press inviting them to attend either the event at the main Sun campus in Menlo Park, or a similar event staged in another part of the world: 100,000.

Number of people watching the event on November 7 televised on satellite downlinks worldwide: 15,000

Specialty beers brewed for the occasion: 1 ("Ultrabier" in Munich)

Sun's 1995 revenues: $5,902 billion

Estimated number of people currently connected to the Internet worldwide: 24 million

Number of cameras broadcasting the event from the main Cirque du Soleil tent: 5

Number of tent builders sent by the Cirque du Soleil to oversee the construction, maintenance, and strike of its tent: 4

Tentmasters on site to oversee the tent builders: 1

Performance improvement between SPARCstation 2 and UltraSPARC (measured in SPEC_fp_92): 10 fold

Estimated number of people at lunch on November 7: 1,300

Number of little purple feet advertised on a SPARCstation 1: 4

Number of satellites on which time was booked from 9:00 a.m. to 10:30 a.m. on November 7 to broadcast the rollout: 6

Percentage of Sun revenues from non-U.S. sales: 49%

Price of an Ultra 1 workstation: $16,495

In dollars, price of a SPARCstation 1: $8,995

Price of a Sun-1 in 1983: $25,800

Size, in square feet, of the main Cirque du Soleil tent: 20,000

Number of simultaneous translators at the November 7 press/analyst question and answer session: 1 (into Japanese)

Number of custom guitars built for the Fusion event: 1

Length of time in years the performing guitarist worked for Sun: 5

Number of UltraSPARC workstations on stage during the announcement: 10

Number of Menlo Park firemen on duty for the duration of the event: 3

Emergency medical-equipped fire trucks: 1

Number of Sun Microsystems speakers on the road after the event to publicize the new Ultra: 60

Number of rollout kits sent to field offices to put on mini versions of the November 7 event for local audiences: 525

Number of crew needed to set up the event the day before the show: 156

Crew on duty the day of the show: 91

Number of beta UltraSPARC units sent to beta sites for testing: 153

Lights in the main Cirque du Soleil tent: 448

Number of banners hung for the event: 303

Number of sound and music tracks monitored and mixed simultaneously by the sound engineer backstage: 60

Pieces of collateral printed during the ten days before the event and sent out to the field for distribution: 1.1 million

Length of time in years James Gosling's mother's toaster has worked without having to be replaced: 41
--Erica Liederman


What users are saying about the UltraSPARC computers
SunWorld Online asked several users at the Ultra 1 and 2 event at Sun's headquarters in Menlo Park, CA what they thought about Sun's latest wares. Their comments follow. (All are 8-bit "au"-format sound files compatible with audiotool.)

Terje Iversen (270K audio file)
vice president engineering
Sutmyn Storage Corp.
Sunnyvale, CA
Wants better I/O performance for storage.

Lyle Ribet (149K audio file)
senior distributed computer analyst
Amoco Corp.
Chicago, IL

Liked visualization part of announcement, and can use it in oil & gas applications.

Deepak B. Phatak (124K audio file)
professor
Department of Computer Science & Engineering
Indian Institute of Technology
Powai, Bombay, India

Sun's been behind in performance for a while, and this will put them ahead for about a year. Performance numbers look good, as do graphics, visualization, and networking.


Second quote from Deepak (96K audio file)


Third quote from Deepak (223K audio file)

Harris Chasen (230K audio file)
chief architect of market to collections
Xerox Corp.
Rochester, NY

Xerox is reengineering its business processes, allowing salesmen to work on laptops and then plug into network, globally integrating its business processes. Xerox needs more horsepower, more network bandwidth, to access data, and video, across a global network.


Second quote from Harris (307K audio file)

Norman S. Wolf(222K audio file)
product development officer
Financial Engineering Systems
Bank of America
San Francisco, CA 94104

Bank of America needs higher-end servers because its number of users and the amount of data going over the network will be increasing. B of A is putting all its consumer customer data into one virtual repository.


Second quote from Norman (226K audio file)

Gregory Dunlap (273K audio file)
systems manager
Systems Integration
Bank of America
Concord, CA

Graphics are neat, but B of A doesn't need that, except maybe on its Web site.