Click on our Sponsors to help Support SunWorld

Ultra Enterprise 450: Sun's answer to Compaq

Sun to price new servers to compete with Proliant 6000

By Robert McMillan
San Francisco (August 14, 1997) -- Next Tuesday, August 19, 1997, newspapers in Houston and Seattle will bear full-page advertisements trumpeting Sun's latest assault in the escalating Unix versus Wintel war: the Ultra Enterprise 450 workgroup server.

Sun Microsystems Computer Company (SMCC)'s director of workgroup server marketing, David Douglas, says pricing for the new servers has not yet been decided. According to him, his department is trying to figure out whether to price it just above or below its competition: the Compaq Proliant 6000, which starts at $12,000.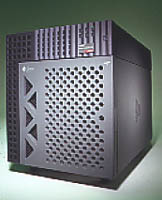 Ultra Enterprise 450
The Enterprise 450 (code-named Tasmo) will support one to four processors -- of either the 250-MHz or 300-MHz UltraSPARC variety. Instead of SBus, it will have six PCI bus slots, as well as two slots that support the next generation of PCI, called EPCI. Douglas says the Enterprise 450 will be one of the first boxes on the market to support EPCI when they ship this September.
Not surprisingly, Sun claims the new servers will have more than three times the performance of the Proliant 6000 in terms of I/O and memory bandwidth. Douglas says Sun is about to publish TPC-C numbers in the 11,000 range. But "the key," he says "is that we've brought this down to a low price point."
Peter Lowber, a principal analyst with DataPro, is skeptical. "I'm not sure how close they can get to the Proliant 6000 in price," he says, (Editor's note: We will publish pricing here as soon as it becomes available) but speculates that, "if Sun can remove price as a barrier I think that they have a shot at holding their customer base from going to NT. I don't think they're going to compete head on and thwart NT with this. I think they're going to keep NT out of some accounts, but I'm not sure how much it's going to help them outside of their installed base."
Sun's Douglas says the low end of the Ultra Enterprise product line (the Enterprise 1, 2, and 150) will be revamped in the coming months. Products like the Enterprise 1 and 150 were based on a workstation design, Douglas says, and Sun plans to introduce next-generation servers designed as such from "the ground up." This means that standard high-end features like automatic system restart and a redundant power supply will make their way into Sun's entire line of servers. The Ultra 450 will have these last two features as well as some customizable clustering software that server product manager Marcia Kennedy says, "is the same package that we're selling at the high end."
Advertisements
Point and click Unix?
Sun hopes to address NT's ease-of-use claims by including Solaris 2.6 for Intranets, which features Syntax's TotalNET Advanced Server (OEM'd under the name SunLink) and the WebStart Java GUI-based configuration tool.
But clearly, this is not enough to assuage the fears of Microsoft-centric workgroup administrators. Kennedy says that Sun is working to put a Java Management API (JMAPI) front end onto such crucial administrative features as user, printer, and disk management, the SyMON system management software, Sun Directory Services, and its Full Moon clustering software. Kennedy expects most of this work to be done by February 1998. WebStart will also be extended to support "a lot of key applications," according to Douglas. This would allow, for example, an administrator to use WebStart to configure a Lotus Domino server on Solaris, he says.
If Datapro's Lowber is skeptical about Sun competing with Compaq, he does give them credit for raising the bar for other Unix vendors. In bringing Unix boxes even close to Intel/NT, he says that Sun is "far ahead of their Unix competition. There isn't any other Unix vendor who has removed price as a barrier," he says. "IBM is going to have to cut the price of the [RS/6000 model] F50 if they're going to compete with Sun here."
Sun says it has been working with ISVs for about a year now, developing a range of integrated solution suites for the Enterprise 450. They have partnered with vendors like Lotus, Netscape, Oracle, QAD, and Sybase on this.
The Enterprise 450 will ship with a non-JMAPI version of Solstice SyMON, 2 MB Ecache, and up to 4 GB memory. It will support up to 20 SCSI hot swappable disks. Sun will begin taking orders on August 19, 1997.
If you have technical problems with this magazine, contact webmaster@sunworld.com
URL: http://www.sunworld.com/swol-08-1997/swol-08-ultra450.html

Last modified:

Click on our Sponsors to help Support SunWorld
Resources
---
If you have technical problems with this magazine, contact webmaster@sunworld.com
URL: http://www.sunworld.com/swol-08-1997/swol-08-ultra450.html
Last modified: