Click on our Sponsors to help Support SunWorld

Web Start: Phase one of "native Java environment" for Solaris

SunSoft plans to Javatize complete set of Solaris administration tools
San Francisco (April 21, 1997) -- It seems that Sun's Solaris group is not immune to the influence of Java. Solaris Vice President Steve MacKay says that his group is working to move a number of Solaris services to a "more native Java environment" by the time Solaris 2.7 rolls out in the second half of 1998. Java versions of Solaris' library services and networking and directory service interfaces are planned. MacKay says the operating system should also support a number of transaction application programming interfaces (APIs) from the Java Electronic Commerce Framework as well as the JavaWallet e-commerce application.
---
Advertisements
---
In fact, MacKay says there is a chance that his engineers will recompile Solaris in Java in the post-Solaris 2.7 time frame, adding that "there are advantages in terms of the messaging model and the security model" that would come from such a scheme. The Java language may not be ready for Solaris today, but MaKay says that by the time his group gets serious about doing the recompilation, it would be no problem.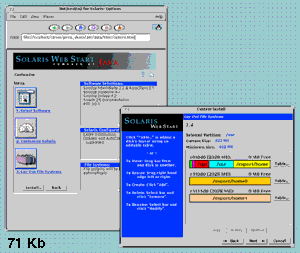 Solaris 2.6 will include the first stages of this "native Java environment" in the form of two Java applications, called Web Start and Web Print. Web Start, formerly code-named "the genie button" lets you install the OS, while Web Print provides access to print and printer administration services. Because they are written in Java, both can be used through a browser interface.
Product Manager Thomas Goguen says that to create Web Start, Sun's engineers used the Java Management API to build a Web interface on top of Solaris' JumpStart automatic configuration technology. The software includes APIs for installation, configuration, registration, and licensing. After installation, it can be used for uninstalls, reinstalls, or upgrades. He adds that during installation, the software can do smart things to prevent configuration nightmares. For example the product monitors partition size during the installation of administration tools to ensure there's enough room to install everything.
Goguen says the long-term plan is to Java-enable the entire suite of Solaris administration tools. To that end Sun will also ship Java tools, sometime between Solaris 2.6 and 2.7, that will let users change system configuration and even centrally administer the installation of Solaris.
Sensitive to the fact that not all of Sun's customers may want this browser-based technology, Goguen promises that the beloved command line will remain in Solaris. "We don't want to take away any of the facilities that (Solaris users) are used to using. You can get right in and get pkgadd...everything that you could do on the command line, we're still supporting," he says.
Goguen stopped short of calling Web Start the replacement for JumpStart saying instead that Web Start is indicative of "where the development of JumpStart is going." This is probably a good thing, given JumpStart's somewhat cryptic implementation.
Web Print's first incarnation will support only NT Web client print requests and Solaris print administration, but upcoming versions are supposed to support Windows 95, NetWare, and, eventually, "any client" and "any protocol," according to Sun.
As this summer's expected launch of Solaris 2.6 approaches, Sun's plans for the new OS continue to trickle out. Lately, SunSoft has been promising that a prototype of IPv6 will be available on Solaris. The non-prototype version will ship in 2.7. Also promised this summer is support for flat and nested transactions, IIOP compliance, the ability to do two-phase commit transactions, Kerberos V5, HTTP 1.1, 64-bit file support, and Web-based documentation.
--Robert McMillan
Click on our Sponsors to help Support SunWorld
Resources
---
If you have technical problems with this magazine, contact webmaster@sunworld.com
URL: http://www.sunworld.com/swol-04-1997/swol-04-webstart.html
Last modified: