Click on our Sponsors to help Support SunWorld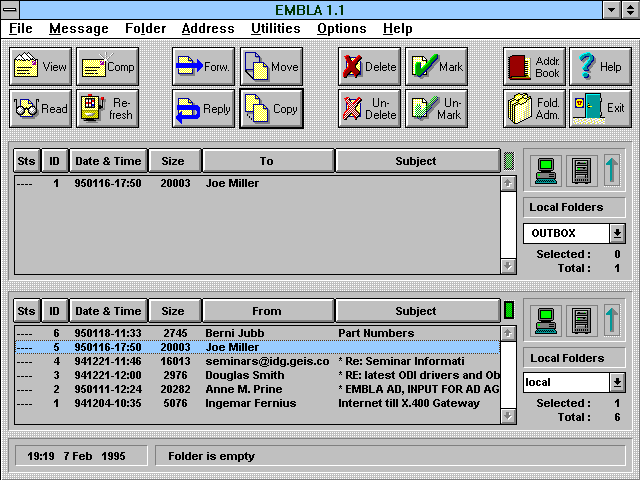 Product: EMBLA Lite ($49)
Company: ICL ProSystems (Reston, VA; Linkoping, Sweden)
Telephone: 1-800-755-UNIX (UniDirect, reseller)
Fax: (703) 648-3350
E-mail: marcomms@pro.icl.se
URL: http://www.pro.icl.se
Platforms: Windows
Description: An easy-to-use Windows client for Internet e-mail -- download a free, 30-day evaluation version from the ICL ProSystems Web site. Supports SMTP and MIME, automatic MIME encoding (also user-selectable UUENCODE), and multiple, mixed attachment types. Drag & drop to organize messages in folders. Save draft messages to a "prep" folder. Supports 7-bit ASCII character sets for 11 European languages. Requires TCP/IP, Winsock 1.1.
If you have problems with this magazine, contact webmaster@sunworld.com
URL: http://www.sunworld.com/swol-08-1995/swol-08-np-emba.html
Last updated: 14 August 1995
--
Click on our Sponsors to help Support SunWorld

If you have technical problems with this magazine, contact webmaster@sunworld.com
URL: http://www.sunworld.com/swol-08-1995/swol-08-np-emba.html
Last modified: