Click on our Sponsors to help Support SunWorld

| | |
| --- | --- |
| | |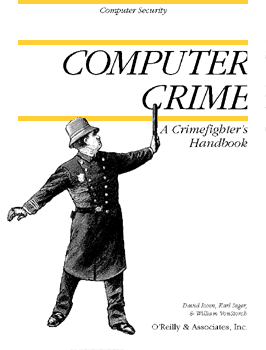 Product: Computer Crime: A Crimefighter's Handbook ($24.95)
Company: O'Reilly & Associates (Sebastopol, CA)
Telephone: (707) 829-0515 (800) 998-9938
Fax: (707) 829-0104
E-mail: info@ora.com
URL: http://www.ora.com
Description: By David Icove, Karl Seger & William VonStorch, with Consulting Editor Eugene H. Spafford. 464 pages, ISBN: 1-56592-086-4 From crackers breaking into systems on the Internet, to electronic fraud on international funds transfer networks, to software viruses and worms, to corporate espionage on business networks...computer criminals are becoming ever more technically sophisticated, and it's an increasing challenge to keep up with their methods. This book is a resource for anyone who needs to know what today's computer crimes look like, how to prevent them, and how to detect, investigate, and prosecute them if they do occur. It contains basic computer security information as well as extensive guidelines for investigators, law enforcement, managers, and computer system administrators. The book has been reviewed by representatives of the U.S. Secret Service, the Department of Justice, local police departments, district attorney's offices, and law enforcement abroad.
If you have problems with this magazine, contact webmaster@sunworld.com
URL: http://www.sunworld.com/swol-08-1995/swol-08-np-comp-crime.html
Last updated: 21 August 1995
--David Icove, Karl Seger & William VonStorch
Click on our Sponsors to help Support SunWorld

If you have technical problems with this magazine, contact webmaster@sunworld.com
URL: http://www.sunworld.com/swol-08-1995/swol-08-np-comp-crime.html
Last modified: