Click on our Sponsors to help Support SunWorld

Index

By John J. McLaughlin
New products for the week of November 15
By John J. McLaughlin, FlashBack, Inc.

Back to the comprehensive index of November's new products.
Index
Hardware
Software
Books
Hardware
Product: CD-R2/UNIX - CD-recordable ($1,849)
Company: Olympus Image Systems, Inc. (Melville, NY)
Telephone: (800) 347-4027
Platforms: Solaris 1 & 2, HP 700, SGI Irix and DEC OSF Alpha
Description: CD-R subsystem providing multi-session recording capabilities, incorporating a 1 MB data cache memory, and including the necessary recording software.

Product: CS20E and CS1000 - SPARC-based communication server (CS20E, base config - $8,995/CS1000 base config is $17,995)
Company: Integrix, Inc. (Newbury Park, CA)
Telephone: (800) 300-8288, (805) 375-1055
Fax: (805) 375-2799
E-mail: sales@integrix.com
URL: http://www.integrix.com
Platforms: Solaris 2.4
Description: Fully-configured servers designed for use by Internet Service Providers (ISP) or for companies providing desktop-to-Internet connectivity enterprise-wide. Both servers come complete with configuration scripts, Solaris 2.4 installed, and built-in Ethernet and ISDN interfaces.

Product: GXTRA/4m - high-resolution display controller ($3,500.00)
Company: Tech-Source Inc. (Altamonte Springs, FL)
Telephone: (800) 330-8301, (407) 262-7100
Fax: (407) 339-2554
E-mail: sales@techsource.com
Platforms: Solaris 1 & 2
Description: Single slot plug-n-play high resolution (up to 1728 x 2304 with refresh rate of 72 Hz) display controller for the new Sun UltraSPARC, SPARCstations and SPARC compatible workstations. The GXTRA/4m was specifically designed for Medical Centers, OEM suppliers, and other users of super high resolution monochrome displays.

Product: SM series X Terminal ("Munchkin") - small footprint X terminal (From $1,395 (for 9" mono/14" color) to $3,595 (high end 21"))
Company: Phase X Systems, Inc. (Beaverton, OR)
Telephone: (800) 845-4064,(503) 531-2400
Fax: (503) 531-2401
E-mail: info@PhaseX.com
URL: http://www.PhaseX.com
Platforms: Sun/Solaris, HP, SGI, IBM RS6000, DEC, and others
Description: Small footprint X terminal: 9.75" x 9.25" x 1.75", 60% smaller than a traditional X Terminal footprint. Choice of Intel 960 processors, monitor options starting with 9" gray-scale and 14" color to 21" high resolution, (range from 640 x 480 to 1280 x 1024). Programmable, multisynching monitors. X11R5 server software, Motif, OPEN LOOK, and FVWM manager. Flash option up to 4MB.

Product: Sphinx 2000 & 4000 - server rackmount chassis (Sphinx 2000: $2,595 & $4,595. Sphinx 4000: $3,795 & $5,795)
Company: Artecon (San Diego, CA)
E-mail: donald@artecon.com
URL: http://www.artecon.com
Platforms: UltraServer
Description: Extension to the Sphinx rackmount product line to include support for Sun Microsystem's new UltraServer 1 systems. The Sphinx 2000 can be used to rackmount the UltraSPARC servers in a standard 19-inch computer equipment rack with room for two additional fixed or hot plug disk devices, taking 7-inches of vertical rack space. The Sphinx 4000 family provides a removable power supply and four device bays for mounting up to 16GB of additional hot plug removable disk storage. This server configuration occupies 8.75-inches of vertical rack space. Both come in 110/220V and -48VDC versions.
Software
Product: ART Press - Image (and not yet released speech) compression software (T.B.A. (Currently free from Web site))
Company: Johnson-Grace Company (Newport Beach, CA)
Telephone: (714) 759-0700
Fax: (714) 729-4643
E-mail: TechSupport@jgc.com
Platforms: generation: Windows, Mac. display: any WWW server
Description: Image compression averaging three times smaller than gif and jpeg. Soon to be released ART speech compression enables authoring of interleaved sound and images for real-time playback at 14,400 bits per second. Support currently being built into browsers. Netscape will initially support ART images, in-line, through the use of a plug-in.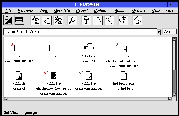 Product: ClearCase and ClearCase MultiSite - software configuration management for software teams
Company: Atria Software (Lexington, MA)
Telephone: (617) 676-2551
Fax: (617) 676-2410
E-mail: kirsten@atria.com
URL: http://www.atria.com
Platforms: Solaris 1 & 2, UltraSPARC, Irix, Windows NT, HP-UX, DEC, AIX
Description: Software configuration management for current and new high performance computing platforms. ClearCase provides comprehensive SCM including version control, workspace management, build management, and process control, especially for parallel development and software asset sharing.
Product: Connection - single password solution for all corporate databases ($295 per user)
Company: Open Horizon (Belmont, CA)
Telephone: (415) 598-1200
Fax: (415) 593-1669
E-mail: info@openhorizon.com
URL: www.openhorizon.com
Platforms: Windows 3.1, Windows NT, Solaris, AIX, HP-UX and AT&T MP-RAS.
Description: Access all corporate client/server database applications via a single, secure password. Using a unique application of Kerberos security, Connection seamlessly connects all database applications to any data source via a single user password, where the password is never sent over the network or stored.
Product: ISE EIFFEL 3.3 - portable visual object-oriented development environment
Company: Interactive Software Engineering (Santa Barbara, CA)
Telephone: (805) 685-1006
Fax: (805) 685-6869
E-mail: info@eiffel.com
URL: http://www.eiffel.com
Platforms: Solaris 1 & 2, HP 9000, IBM RS6000, DEC Alpha OSF/1, Data General Aviion, Linux, SCO, Irix, (in December: Windows, Windows NT, Windows 95, DEC Alpha OpenVMS and UnixWare)
Description: Portable, visual object oriented development environment with many-mode symbolic debugging, filterable environment, optimizers, universal environment resource files, total portability, and structural grahpical representation.
Product: NetWorker Database Module for Oracle - high performance backup for the Oracle7 database ($9,000 per NetWorker server)
Company: Legato Systems Inc. (Palo Alto, CA)
Telephone: (415) 812-6112
Fax: (415) 812-6032
URL: http://www.legato.com
Platforms: Solaris 2 soon: IBM AIX 3.2.3 and HP-UX 9.0
Description: Works with the Oracle7 Enterprise Backup Utility to allow administrators to back up Oracle databases while the databases remain on-line and in use. Media tracking and database configuration tracking are automatic. Features unattended `lights-out` operation and includes the ability to schedule partial or full backups on a regular or rotating schedule. Also offers support for a wide range of optical and tape devices, including autochangers, which further minimizes operator intervention.
Product: Netprobe & PortProbe - user-friendly port scanner (Netprobe: updated Portprobe: free)
Company: Spanning Tree Technologies (Ames, IA)
Telephone: (515) 296-6900
Fax: (515) 296-9910
E-mail: info@spanning.com
URL: http://www.spanning.com
Platforms: Sun, Unix
Description: Portprobe: user-friendly freeware port scanner to generate a complete inventory of all 65,536 active ports on a computer, quickly enabling system administrators to identify and close ports intruders could otherwise exploit. NetProbe: tests each computer on a network for remote access security holes and informs the network administrator where they are and how to patch them. NetProbe is designed to execute all of its tests against 1,000 computers in an hour or less from a low-end Sun Sparc computer.
Product: OmniGuard/Intruder Alert 2.1 - intrusion detection and Internet & application-level monitoring (managers cost $1,995 agents $995)
Company: AXENT Technologies (Rockville, MD)
Telephone: (301) 670-3653
Fax: (301) 330-5756
E-mail: marwat@axent.com
URL: http://www.axent.com
Platforms: Sun, Hewlett-Packard, IBM, and Digital
Description: ITA attempts to detect suspicious activities on systems connected to the Internet, warn of potential intrusions, and take corrective action automatically, as well as monitor internal network security. Also detects probes, notifies the security administrator, and then automatically responds to and prevents the attack.
Product: QC/Recall - bug isolation and user-action-logging without slowdown ($350 per user)
Company: CenterLine Software (Cambridge, MA)
Telephone: (617) 498-3000
Fax: (617) 868-6655
E-mail: info@centerline.com
URL: http://www.centerline.com
Platforms: Solaris 1 & 2 and HP-UX
Description: By monitoring and capturing information about how a user was interacting with an application when it failed, QC/Recall provides developers and support groups with a comprehensive log file of all user actions, enabling them to isolate bugs. Developers can then use CenterLine's QC/Replay, a graphical user interface (GUI) capture/playback tool integrated with QC/Recall, to execute the log file to recreate the failure. QC/Recall functions by recording keystrokes and mouse-clicks to minimize performance penalties on the user's application.
Product: Sysmon (text version) SysmonX (X Windows version) - UNIX operating system monitoring, performance analysis ($2500 - $3000 plus annual license fee of $500 - $600)
Company: Computronics (Addison, IL)
Telephone: (708) 941 7767
Fax: (708) 941 7714
E-mail: info@computron.com
Platforms: AIX, DGUX, HP, NCR, OSF1, Sequent, SOLARIS 1 & 2, ULTRIX
Description: Identifies trouble spots, memory use, swapping, CPU use, etc. Sysmon is designed to notify you when your computer is having a problem and locate where in the system it's occurring, find out why it's happening, how it's caused, and who is accessing the system at the time.
Books
Product: Threads Primer - A Guide to Multithreaded Programming ($28)
Company: SunSoft Press/Prentice Hall (Mountain View, CA)
E-mail: sunsoftpress@Sun.com
URL: http://www.sun.com/smi/ssoftpress
Platforms: POSIX, Solaris, OS/2, and Windows NT
Description: ISBN 0-13-443698-9. Written for developers and technical managers, this book provides a solid, basic understanding of threads -- what they are, how they work, and why they are useful. It covers the design and implementation of multithreaded programs as well as the business and technical benefits of writing threaded applications. The "Threads Primer" discusses four different threading libraries: the POSIX, Solaris, OS/2, and Windows NT libraries. The Solaris and POSIX APIs are discussed in greatest depth, including implementation details and examples.

SunWorld Online takes no responsibility for claims made by the vendors or manufacturers of the products.

If you have problems with this magazine, contact webmaster@sunworld.com


URL: http://www.sunworld.com/swol-11-1995/swol-11-newproducts3.html
Last updated: 15 November 1995

Click on our Sponsors to help Support SunWorld

If you have technical problems with this magazine, contact webmaster@sunworld.com
URL: http://www.sunworld.com/swol-11-1995/swol-11-newproducts3.html
Last modified: