Sun Internet Mail Server 3.1 to ship next week

LDAP support and new Internet transfer agent to be featured

By Robert McMillan and Dana Gardner
San Francisco (October 1, 1997) -- Sun Microsystems Inc. has completed a massive development effort to produce a Java-enabled, open-client e-mail server that it hopes will take the thunder out of the Microsoft Exchange on Windows NT solution.
The Sun Internet Mail Server (SIMS) 3.1, will be announced Oct. 7 at the NetWorld+Interop show in Atlanta.
SIMS 3.1 will support IMAP4 and POP3-based clients. It will also feature a new Java Management API-(JMAPI) based administration console and a MIME/ESMTP (Extended Simple Mail Transfer Protocol) Internet message transfer agent that will have delivery notification, authentication services, and SPAM-blocking capabilities.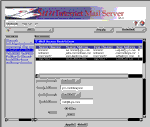 Sun Internet Mail Server (36K)
Sun group marketing manager Roger Nolan says the product is part of Sun's continuing efforts to "replace a lot of the old Unix legacy stuff" found in existing Unix mail servers with new, standards-based features. He cites SIMS's new Internet Message Store as one such feature. With this, administrators need only store a single copy of a message that is being sent to more than one scheduled recipient within the mail server's domain.
Sun says it plans to add SIMS connectivity services for PROFS, cc:Mail, and MS Mail servers by year's end.
As reported earlier in SunWorld (see Resources below) SIMS 3.1 will be Sun's first application to work with its recently announced LDAP Directory Services.
Sun also will add scheduling and calendar functions with an updated version of the server by the end of the year. The calendaring features will implement the IETF's (Internet Engineering Task Force) Internet Calendaring Access Protocol (ICAP), according to Nolan.
"It's Sun's answer to Exchange," an industry observer said. Sun's goal, the observer said, was to bolster the appeal of the Unix server hardware over NT systems, particularly for high-scaling messaging deployments in corporations and for Internet service providers.
The penetration of Windows NT represents a growing threat to Sun's installed base of Unix servers. The company's plunge in August into the workgroup market with sub-$20,000 systems, known as the Enterprise 450 workgroup server line, was also intended to keep its Unix sites from straying.
Sun has come late to the messaging arena, but has poured resources into making a stand there.
"They are late," said Susan Trost, president at Express Business Solutions, a systems integrator, in Mt. Airy, MD. "But it may fit in well for the traditional Sun shops."
Gail Shlansky, Lotus Notes messaging products manager, was not impressed, saying Sun is significantly behind the leading edge of messaging products and that corporations would be reluctant to hand over vital applications to a vendor new to the e-mail field.
The new Internet mail server forms a full-blown upgrade to the Solstice Internet Mail Server (also known as SIMS) 2.0, which arrived last spring from Sun.
Sun claims that SIMS 3.1 running on a 10-CPU Enterprise 4000 has scaled to 30,000 users. No word on how many users will be supported by the UE 10,000. Nolan says that test has not yet been conducted.
SIMS 3.1 is expected to be priced at $1,500 and $3,500 for 100-license departamental and enterprise feature sets respectively. Additional client licenses will run from $5 to $12, depending on volume. The connectivity services will ship at the end of 1997 and will start at $5,000.

Dana Gardner writes for InfoWorld, a SunWorld affiliate
Resources
---
If you have technical problems with this magazine, contact webmaster@sunworld.com
URL: http://www.sunworld.com/swol-10-1997/swol-10-sims.html
Last modified: