Click on our Sponsors to help Support SunWorld

| | |
| --- | --- |
| | |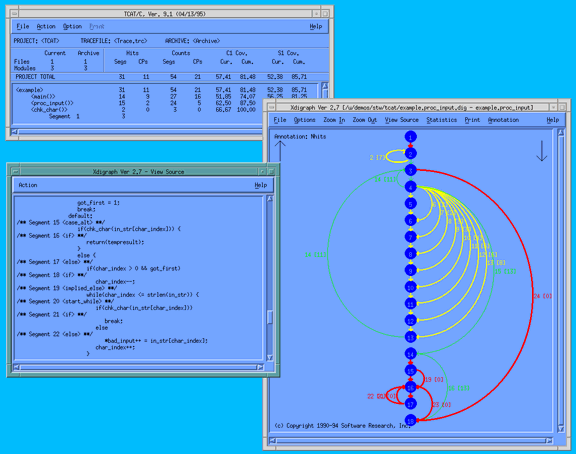 Product: STW/Coverage 3.0, application development/test tool ($4125 for single license)
Company: Software Research, Inc. (San Francisco, CA)
Telephone: (800) 942-SOFT (415) 957-1441
Fax: (415) 957-0730
E-mail: info@soft.com
Platforms: Solaris 1, Solaris 2, HP-UX, AIX, Digital Unix, IRIX
Description: A next-generation product intended for developers and testers working on host-based, client/server, and embedded-product environments. Using recursive descent compiler technology, STW/Coverage 3.0 handles all standard constructs and the latest language enhancements for all of C and C++ and has the ability to do branch and call pair coverage in a single test run. It also provides users with multiple ways to look at coverage results through a variety of easily produced textual, graphical, and tabular reports. It is part of the fully integrated TestWorks multi-platform suite of coverage testing tools, and is also available for Ada, COBOL and FORTRAN.
If you have problems with this magazine, contact webmaster@sunworld.com
URL: http://www.sunworld.com/swol-10-1995/swol-10-np-stw-coverage.html
Last updated: 1 October 1995
--
Click on our Sponsors to help Support SunWorld

If you have technical problems with this magazine, contact webmaster@sunworld.com
URL: http://www.sunworld.com/swol-10-1995/swol-10-np-stw-coverage.html
Last modified: