Click on our Sponsors to help Support SunWorld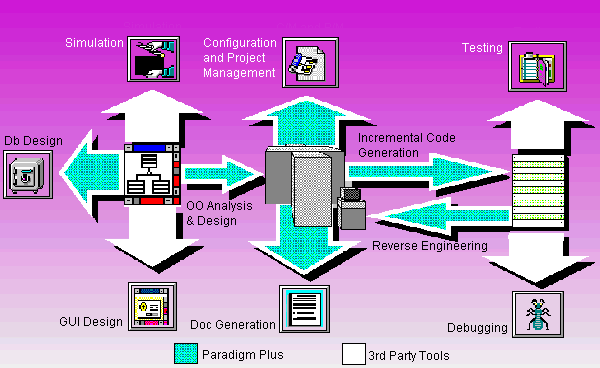 Product: Paradigm Plus 3.0 with Enterprise Component Modeling (ECM) ($3995 and up)
Company: ProtoSoft (Houston, TX)
Telephone: (713) 480-3233
Fax: (713) 480-6606
E-mail: richard@protosoft.com
URL: http://protosoft.com/home.html
Platforms: SunOS, Solaris, Windows, Windows NT, Windows 95, OS/2, HP-UX, SGI IRIX, AT&T/NCR 3000
Description: A powerful object-oriented analysis and design (OOAD) tool that supports Enterprise Component Modeling(ECM), code generation, and reverse engineering. Using ECM, companies can identify business requirements, model and build reuseable application components, and manage information systems over the long term. Paradigm Plus makes ECM possible through its support for all leading OO methodologies, incorporation of a powerful distributed object repository for large teams of concurrent users, and automatic synchronization of models, source code, and documentation.
If you have problems with this magazine, contact webmaster@sunworld.com
URL: http://www.sunworld.com/swol-09-1995/swol-09-np-paradigm.html
Last updated: 5 September 1995
--
Click on our Sponsors to help Support SunWorld

If you have technical problems with this magazine, contact webmaster@sunworld.com
URL: http://www.sunworld.com/swol-09-1995/swol-09-np-paradigm.html
Last modified: