Click on our Sponsors to help Support SunWorld

| | |
| --- | --- |
| | |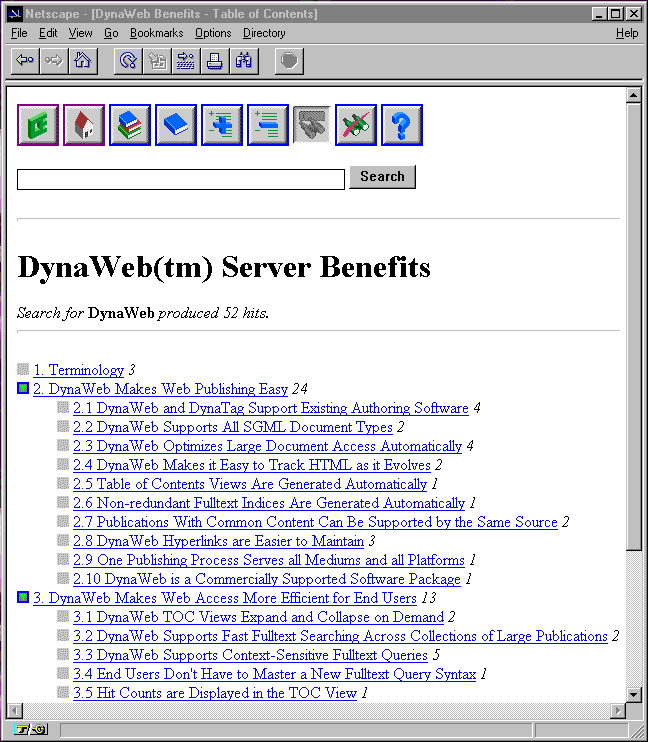 Product: DynaWeb 1.0 Web server
Company: Electronic Book Technologies Inc. (Providence. RI)
Telephone: (401) 421-9550
Fax: (401) 421-9551
E-mail: info@ebt.com
URL: http://www.ebt.com
Platforms: Solaris 2.x, HPUX 9.x, SGI IRIX 5.x, IBM AIX 3.2.x, DEC Alpha/OSF 1.x, UnixWare 2.x, and Solaris x86.
Description: An SGML-based, large document World-Wide Web (Web) server that serves large SGML documents to Web browsers for rapid navigating and searching. DynaWeb provides important benefits to both DynaText publishers and to Web end-users by enabling remote Web browsers to fully exploit DynaText-like functionality on the Web, at the same time requiring minimal effort on the part of publishers to set up and maintain. The DynaText/DynaWeb environment provides publishers with a single solution for cross-platform publishing via the Web, CD-ROM and LAN/WAN. DynaWeb can be integrated with HTTP servers with Secure Socket Layer (SSL) and Secure HTTP (S-HTTP) capabilities via CGI.
If you have problems with this magazine, contact webmaster@sunworld.com
URL: http://www.sunworld.com/swol-08-1995/swol-08-np-dynaweb.html
Last updated: 8 August 1995
--enabling remote
Click on our Sponsors to help Support SunWorld

If you have technical problems with this magazine, contact webmaster@sunworld.com
URL: http://www.sunworld.com/swol-08-1995/swol-08-np-dynaweb.html
Last modified: