Click on our Sponsors to help Support SunWorld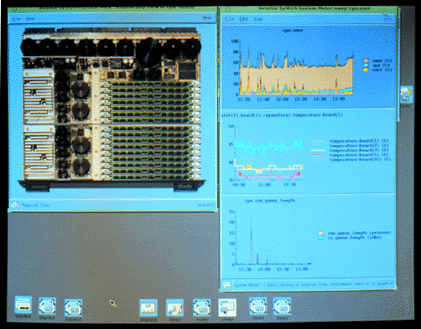 Solstice SyMON monitors an UltraSPARC server, or collection of servers, and alerts system administrators of failed parts and predicts failures. It functions like a SNMP network management console, though does not use the SNMP protocol.
On the left is graphic image of one of the components SyMON is monitoring (in this case a CPU card). On the right are various performance meters and output from environment sensors.
If you have problems with this magazine, contact webmaster@sunworld.com

URL: http://www.sunworld.com/swol-05-1996/swol-05-pop.photo.html
Last updated: 1 May 1996

Click on our Sponsors to help Support SunWorld
If you have technical problems with this magazine, contact webmaster@sunworld.com
URL: http://www.sunworld.com/swol-05-1996/swol-05-pop.photo.html
Last modified: