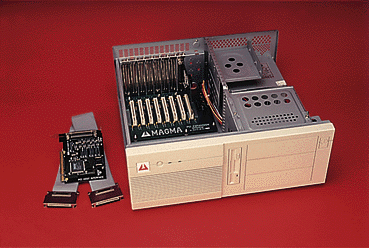 Product: PXB-7 - PCI expansion chassis ($1,995)
Company: MAGMA (San Diego, CA)
Telephone: (800) 285-8990, (617)457-0750
Fax: (619)457-0769
E-mail: sales@magma.com
URL: http://www.magma.com
Platforms: Sun, Intel, Digital Alpha, Macintosh, PowerPC
Description: PCI to PCI expansion chassis compliant with revision 2.1 of the PCI Local Bus Specification, Incorporating 7 slots usable slots, 6 master, 1 slave without requiring any software support on the host computer. Consists of 1 PCI host interface card, an Expansion Bus Cable, and the 7-slot Expansion Interface, its 7-slot backplane and the enclosing PC/AT style chassis with 200W power supply. Passive bridge to bridge bus implementation requiring no supporting software and daisy-chainable out to 139 PCI slots with minimal performance degradation. Supports 3 5.25" and 3 3.5" peripherals with front panel access. Unlimited customer support.

---

If you have problems with this magazine, contact webmaster@sunworld.com
URL: http://www.sunworld.com/swol-05-1996/swol-05-newproducts1.html
Last updated: 24 April 1996