Elvis+ president clarifies company's future plans

Strategy to move to Europe takes on new meaning

By Ken Masica
San Francisco (March 13, 1998) -- Our March news story, "Elvis+ to sing a new tune," about the corporate shake-up of Russian Internet security company Elvis+ has developed further over the past couple of weeks, and additional information from the company's president, Alexander Galitsky, has revealed a surprising new twist -- he's leaving Elvis+.
As reported in the our original story, Galitsky had major plans for restructuring Elvis+. At the time of our interview in Russia with Galitsky, he had said he would be relocating part of Elvis+ to western Europe, and it would be organized under a new company name.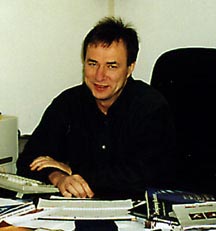 Alexander Galitsky
As it turns out, the still unnamed new company will be completely independent from Elvis+, and Galitsky will actually leave Elvis+ in order to assume the chairman and chief technology officer positions of the new venture, which will have ex-Sun executive Humphrey Polanen as its CEO. According to Polanen, Elvis+'s entire development staff, consisting of 30 people, will follow Galitsky and leave Elvis+ to become employees of the new company.
Elvis+, meanwhile, will remain in Russia only as an Internet security integration company with 50 employees. The company will still own the SunScreen SKIP E+ products it has licensed to Sun Microsystems. Despite the upcoming departure of Galitsky and his development team, a Sun spokesperson says Sun will continue to be an Elvis+ partner.
Elvis+ won't be hanging on to all of its products, however. Interestingly, its FortE+ product line will be transferred to the new venture, leading to speculation that Elvis+ could be reshaped into a crypto engine provider and reseller within Russia for the new venture's product line.
It will be worth watching the Galitsky-Polanen venture as well as the alliance it develops with the pared-down Elvis+. SunWorld will be tracking this story and reporting more information as it becomes available.

Resources
---
About the author
Ken Masica is an electrical engineer specializing in the areas of network design, simulation, and security. Reach Ken at ken.masica@sunworld.com.

If you have technical problems with this magazine, contact webmaster@sunworld.com
URL: http://www.sunworld.com/swol-03-1998/swol-03-elvisupdate.html
Last modified: