Ultra workstation prices slashed with three new models

New Darwin line expected to start at $3,900

By Robert McMillan
San Francisco (January 12, 1998) -- Hoping to slow down the inroads that Wintel machines have been making into its workstation business, Sun Microsystems will announce a new family of low-end workstations tomorrow, called the "Darwin" line. And for the first time, Sun will extend the PCI (Peripheral Component Interconnect) bus architecture to a multiprocessor workstation, with the high-end Ultra 60 workstation.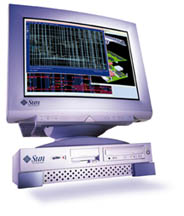 Ultra 5
Sun will also announce its new Elite3D family of graphics cards, which Sun says will perform about four times better than Sun's current Creator3D graphics.
With a high-profile launch event planned in San Francisco tomorrow, Sun plans to position the Darwin line, and in particular the Ultra 5, against Wintel products like the Compaq Professional workstations. Sun Group Manager Robert Novak says that with the Ultra 5 and 10, his company is focusing on the low end of the EDA and MCAD markets -- the place where Sun most severely felt the price performance advantage of Intel systems.
But Dataquest analyst Peter ffoulkes questions whether Darwin will, as Sun hopes, make inroads on sales of NT workstations. He sees Darwin, instead, as a "seawall to slow down the migration to NT." ffoulkes predicts that all of Sun's new products will be competitive against Sun's traditional workstation rivals, with the Ultra 60 competing in a high-end space where Sun hasn't really competed in the past. In terms of competing in the Unix workstation space, says ffoulkes, Sun has "covered basically every single point, and covered it as well as it can be covered."
Apparently designed to replace the aging SPARCstation 5 (though Novak says the SS 5 is not yet officially end-of-lifed), the two Darwin boxes will both be based on the UltraSPARC IIi processor, which, says Novak, integrates memory, graphics, and PCI bus controller capabilities and makes it easier (and cheaper) for Sun to use off-the-shelf components like memory SIMS, power supply, CD-ROM, and floppy drives.
| | | |
| --- | --- | --- |
| | Ultra 5 | Ultra 10 |
| Processor | 266 MHz IIi | 300 MHz IIi |
| RAM | 64-512 MB | 64-1024 MB |
| Disk | 4.3 GB | 4.3-8 GB |
| I/0 (PCI) | 3 x 33 MHz slots | 4 x 33 MHz slots |
| Graphics | 8-bit | Creator or Elite3D |
| Pricing | Starting at $3,900 | Starting at $6,500 |
Pricing for the Ultra 5 will start at $3,900; the Ultra 10 will start at $6,500. Both products in the Darwin line will be available direct from SunExpress. Novak says that Sun will also offer an on-site service contract for the Darwin products at $276/year.
Novak says the Ultra 60 contains the same chip set as Sun's Ultra 450 server. It will have Sun's new 120-MHz UPA (Ultra Port Architecture) interconnect and come in one or two 296-MHz UltraSPARC II processor configurations. It will support up to eight PCI I/O slots (six at 33 MHz, two at 66 MHz) on two buses. And with the single-processor model expected to be priced under $20,000, the Ultra 60 looks to be a fairly competitive replacement product for the Ultra 2.
Though Solaris 2.6 has been available since last summer, all three workstations will ship initially with Solaris 2.5.1. Novak says that 2.6 will begin shipping with the workstations sometime in March of this year. Sun has experienced similar delays in shipping 2.6 with its Ultra Enterprise 10000 servers -- they are expected to be up to date by March as well. When the new version of Solaris does ship with these workstations, they will also have a number of enhancements to Solaris 2.6 designed to make the Solaris 2.6 desktop more manageable. Things like desktop customization and file management are promised to be easier with these enhancements.
Speaking of new systems
Sun isn't the only company announcing new UltraSPARC IIi systems tomorrow. Moorpark CA's EIS Computers will announce new Fusion-iX systems, also based on the 266- and 300-MHz IIi chips. The base configuration will feature 64-MB RAM, 2-GB ultra SCSI hard drive, and six PCI slots. These systems will begin to ship by the end of March, according to EIS and they will ship with Solaris 2.6. Pricing will start at $4,000.

Resources
---

If you have technical problems with this magazine, contact webmaster@sunworld.com
URL: http://www.sunworld.com/swol-01-1998/swol-01-ultras.html
Last modified: