Click on our Sponsors to help Support SunWorld

New SPARCstation 5 model is TurboSPARC powered, made 'Net ready

Double your performance at 30 percent the cost of your old Model 110

By Stephen Lawton
Menlo Park, CA -- January 14, 1997 -- Sun Microsystems extended its workstation line with the launch of the SPARCstation 5 Model 170. The unit, which addresses the user community's question of how Sun would position its workstations vis-a-vis its Ultra line, doubles the performance and offers additional bundled software at a 30 percent price reduction over its predecessor, the Model 110.

Model 170 uses the 170-MHz TurboSPARC processor from Fujitsu Microelectronics Inc. Sun has also added the the Internet Access PlusPack, a suite of Internet applications, that positions the system as both a client and a Web authoring system, says Bob Mitton, product line marketing manager for volume desktops at Sun. The software suite includes Netscape Navigator Gold 3.0, which allows navigation and Web authoring capabilities, and four Sun applications: Java Virtual Machine for running Java applets, a Java-based desktop browser, video and audio tools, and network wrappers that give OpenWindows and CDE (Common Desktop Environment) users access to Solaris FTP and Telnet capabilities.

The workstation will also be offered with a SunPC bundle for users who want to run Windows 3.1 applications. The SunPC card has a 133-MHz 5X86 coprocessor for executing MS-DOS and Windows applications in native mode. The card ships with MS-DOS 6.22 and Windows 3.1.

The upgrade is a "nice performance enhancement for the low-end," says Tom Copeland, an analyst with the market research firm International Data Corp., based in Framingham, MA. He notes that as Sun adds UltraSPARC processors in the 250 MHz to 300 MHz range, he expects the 140-MHz UltraSPARC to take over this price point. But for now, he says, the upgrade is a useful "short-term solution."

The workstation is the first significant upgrade to the SPARCstation 5 family in almost a year. When the most recent version of the workstation was launched on May 8, 1995, the system offered only a 110-MHz processor and a 1-gigabyte drive. The list price then was almost $10,000; at the time, a SPARCstation 4 Model 85 was priced at roughly $4,695.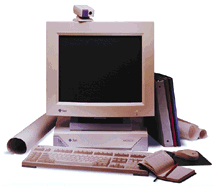 Today, pricing for the SPARCstation 5 Model 170 with a 17-inch monitor, 256 kilobytes of cache, TurboGX graphics, 32 megabytes of RAM, 2.1-gigabyte disk, and Solaris operating system is $4,695. Users with a SPARCstation 4 can upgrade to the new configuration at prices starting at $1,900.
The workstation with a 20-inch monitor is priced at $6,695. The SunPC bundle, which includes the 20-inch montior, increases the price to $6,995. This bundle is available through March 30.
--Stephen Lawton

Click on our Sponsors to help Support SunWorld
Resources
---
If you have technical problems with this magazine, contact webmaster@sunworld.com
URL: http://www.sunworld.com/swol-01-1997/swol-01-sparc5.html
Last modified: