Click on our Sponsors to help Support SunWorld

Sun retains lion's share of workstation market in 1995

SMCC's 40 percent share of units shipped is nearly double HP's share; SGI continues rapid growth, but still has less than a 10 percent slice

By Michael O'Connell
Sun Microsystems continues to dominate the traditional workstation market, claiming 40 percent (307,000) of the units shipped and 34.9 percent ($4.7 billion) of the revenue, according to year-end sales figures recently released by market research company International Data Corporation (IDC). The report indicates Sun posted growth rates of 5.8 percent in units and 17.1 percent in revenue compared to 1994, and enters 1996 with an even stronger position, thanks to its recently introduced Ultra computers.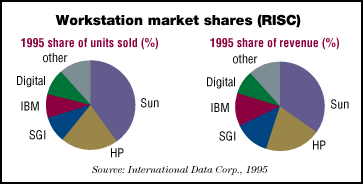 "Sun continues to show consistent revenue growth, even though its shipment volume is relatively flat," notes the IDC report. "Sun continues to focus on commercial servers and now has a dominant position in the Internet server market. In 1995, however, it refocused on the technical market, something it had strayed from in 1993 and early 1994.

"With the introduction of the new UltraSPARC-based Ultra systems, Sun is in its strongest product position in many years. Sun has aggressively priced its new Ultra systems and has reduced its pricing on the entry Sun-4 to $4,295. It enters 1996 with an even more positive story than it had through most of 1995."

The traditional workstation market grew by 12 percent in revenue and 4 percent in units during 1995, IDC reports. All major vendors except Digital (which slipped 8.5 percent in units sold and 1.1 percent in revenues) showed growth during the year; SGI grew well above average, selling 39.2 percent more units and raking in 33.9 percent more revenue than in 1994.

"I continue to be amazed that Sun ships two out of every five workstations," notes IDC analyst Thomas Copeland, author of the workstation market report. "Sun ships as much as the next three [workstation vendors] combined."
---
Advertisements
---
The skinny on Sun's competition
Here are some vendor-specific highlights from the IDC report:
Hewlett-Packard

"Continues to be the solid number two player, but is growing below the market average." The company now focuses on traditional technical markets. Its C Class and J Class systems are the beginning of a revamping of HP's entire line, but the C Class systems "are starting to show their age." Still in a strong position, the PA 8000 and low-cost PA 7300 due in 1996 should help HP regain some of its technical strength.

Silicon Graphics

"The hot workstation company, both in image and growth...was particularly successful in growing its low-end business in Europe." Surprisingly, IDC notes that "glitzy animation market accounts for only 15 percent of SGI's business," and SGI workstations are "being sold in volume into traditional workstation areas." Mechanical CAD is its biggest single market segment. "SGI will have a hard time meeting its 50 percent growth target in 1996," as NT and traditional workstation vendors vie for the animation and 3D graphics markets, respectively.

IBM

Revenues from workstation sales jumped 31.9 percent, while its shipments inched up 5.9 percent, indicating IBM has significantly increased its average system prices by selling systems loaded more heavily with disks, memory, and graphics hardware. The existing IBM base (which accounts for the majority of IBM's workstation business) remains huge and generally loyal. While its PowerPC 604 set new standards for entry-level price/performance, the delay of the PowerPC 620 means IBM lacks a strong top-of-line product position in 1996. IDC expects IBM to transition to a full line of PCI systems, including multiprocessor workstations, in 1996.

Digital Equipment

Weathered declines in both revenue and shipments in 1995, but should grow again in 1996. "Digital faces two issues," notes Copeland, financial soundness and indirect channel support. "The real problem is the financials. People are wary to commit until financials are stronger." But Digital's financial situation is improving. After four straight quarters of profits at Digital, customers may seriously consider doing business with them again. Digital's second problem is indirect channels, which have been reluctant to deal with Digital. "Digital needs to rekindle relationships with [resellers]," says Copeland. One big plus: Digital's Alpha-based workstations continue to win the performance battle.
PCs and NT dominate `Personal Workstation' segment
Meanwhile, the report states "Windows NT and Windows 95 have now blocked Unix from expansion into the general-purpose commercial professional desktop." In what it calls the Personal Workstation market, IDC expects Intel's Pentium Pro will "fuel strong growth of Windows NT for the professional desktop in 1996." (Industry pundit Andrew Allison concurs, and was recently quoted in Unigram.X saying the Pentium Pro "marks the beginning of the end for Unix as a client platform and for the workstation and server as we know them.") Indeed, the personal workstation segment's growth exceeds 100 percent in both units and revenue, and accounts for most of the overall workstation market's growth.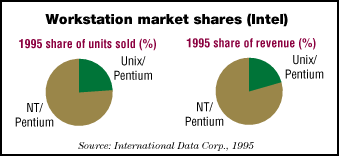 Among Intel-based workstation sales, Unix/Pentium holds a 24.1 percent share of units sold, versus NT/Pentium's 75.9 percent share. In the overall workstation market, Intel-based workstations own 47.1 percent of the overall workstation market in units, according to IDC, but only 19.3 percent of the revenues. Copeland explains that while PCs running Unix or NT have a significant place in the broad workstation market, it is not clear whether a significant number of RISC-based workstations are being replaced by PCs.
"If the Intel share rises and the traditional [RISC-based Unix] share drops," it would signify such a replacement trend, Copeland says. But so far that hasn't happened. "NT is quite successful in the commercial and Windows 95 development fields, but has had limited success in traditional technical fields."
IDC concludes that while Windows NT has slowed the growth of Unix onto the commercial desktop it has not yet made major inroads into the traditional technical markets. They forsee NT continuing its rapid growth primarily in the commercial markets, making only modest inroads against Unix in the technical arena. The market for traditional workstations is forecast to exhibit modest growth 1996, its focus will remain on the technical markets, which continue to embrace Unix over NT and are buying more expensive systems. --Michael O'Connell

Click on our Sponsors to help Support SunWorld
Resources
---
If you have technical problems with this magazine, contact webmaster@sunworld.com
URL: http://www.sunworld.com/swol-01-1996/swol-01-workstation.html
Last modified: