Click on our Sponsors to help Support SunWorld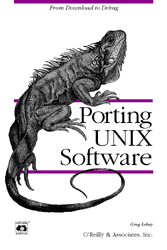 Product: Porting Unix Software: - From Download to Debug ($29.95)
Company: O'Reilly & Associates (Sebastopol, CA)
Telephone: (707) 829-0515
Fax: (707) 829-0104
E-mail: info@ora.com
URL: http://www.ora.com
Platforms: Unix
Description: By Greg Lehey. 538 pages, ISBN: 1-56592-126-7. Offers help to programmers who are using software from different software developers and dealing with the several flavors of Unix. Covers the life cycle of porting, from setting up a source tree on a system to correcting platform differences. Paying special attention to the way things can go wrong when using Unix, the book addresses problems that can stump even the most experienced programmers.
If you have problems with this magazine, contact webmaster@sunworld.com
URL: http://www.sunworld.com/swol-01-1996/swol-01-newproducts2.html
Last updated: 9 January 1996
--Greg Lehey. 538 pages, ISBN: 1-56592-126-7. Offers help to
Click on our Sponsors to help Support SunWorld
If you have technical problems with this magazine, contact webmaster@sunworld.com
URL: http://www.sunworld.com/swol-01-1996/swol-01-np-wk26.porting.html
Last modified: