Click on our Sponsors to help Support SunWorld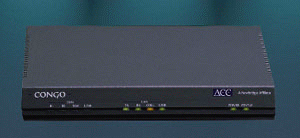 Product: Congo - ISDN bridge/router ($995 to $1,395)
Company: Advanced Computer Communications Inc. (Santa Barbara, CA)
Telephone: (805) 685-4455
Fax: (805) 685-4465
E-mail: info@acc.com
URL: http://www.acc.com
Platforms: ISDN, IP networks
Description: This product supports 802.1D bridging and Static IP routing (an optional IP/IPX model supports IPX/SPX Spoofing and Demand IPX RIP/SAP) plus a suite of features including PAP or CHAP authentication and standards-based PPP multilink operation. Compact enclosure and front-mounted LEDs. Supports 128-Kbps data rates, Express Queuing and 4:1 data compression, dial on demand, dial on congestion, measures 8-1/2 by 6 inches and weighs 1.3 pounds.
If you have problems with this magazine, contact webmaster@sunworld.com
URL: http://www.sunworld.com/swol-01-1996/swol-01-newproducts2.html
Last updated: 9 January 1996
--6 inches and
Click on our Sponsors to help Support SunWorld
If you have technical problems with this magazine, contact webmaster@sunworld.com
URL: http://www.sunworld.com/swol-01-1996/swol-01-np-wk26.congo.html
Last modified: