SunSoft after the shake-up

Domain Manager dead, WorkShop and JavaOS moved to new divisions following July 1 reorg

By Robert McMillan, SunWorld staff
San Francisco (July 14, 1998) -- Sun's much-publicized July 1, 1998 reorganization has caused some significant changes in the product line of the division formerly known as SunSoft. According to John McFarlane, the president of the Solaris software group, his team has ceased development of its SunNet Manager/Domain Manager/Cooperative Consoles product line, moved its WorkShop development tools group to Alan Baratz's Java division, and made major changes to the way it presents itself to customers.

Before the reorganization, Sun had been divided into a number of operating companies -- incorporated divisions that, in theory at least, operated independently from each other. Executives from Sun's software company, SunSoft, would refer to the hardware company, Sun Microsystems Computer Corporation (SMCC), as a "customer," for example. Sun Microsystems, Inc. (SMI) was divided into six planets: Sun Microelectronics, SunSoft, SMCC, SunService, SunExpress, and JavaSoft. All of these divisions would then theoretically have the autonomy to make business decisions according to their own agendas, without interference from other parts of Sun.

This was the theory: Darwin would have been proud.

The thinking at the time was that more autonomy would allow each division to make better business decisions and lead to better products -- cross-platform software like NFS (Network File System), for example.

Of course, theory is just theory. In Sun's case, the reality proved to be different. Intense rivalries sprang up between Sun's divisions, whenever their business objectives collided.

In a sign of things to come, SunExpress -- the aftermarket sales planet -- was stripped of its independent planet status last year and brought inside SMCC, after its pricing policies became too competitive with the SMCC channel.

And now, under the latest reorganization, it is SunSoft whose sales presence has been cut. The entire Sun sales force now reports to Masood Jabbar, the president of the planet formerly known as SMCC (now called the computer systems division). This is, says McFarlane, "the biggest single change we've done."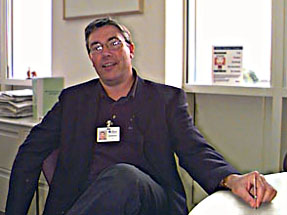 John McFarlane
According to a Sun insider, "the new organization will make it easier for us to show one face to the customer, in which we need improvement. There has been way too much finger-pointing among opcos [operating companies]; now there will be less."
McFarlane, who came to Sun from Northern Telecom in May of 1997 (and replaced Janpieter Scheerder as president of SunSoft seven months later), is more taciturn. "The opcos were really quite internally focused," he says. "There wasn't as much collaboration across the operating companies."
Another major change is that McFarlane's group, which had developed everything from Java development tools, to network management platforms, to the Java operating system, will see a significant cutback in its product responsibilities. McFarlane says that the development tools software work will now all fall under the management of Alan Baratz and his Java division. Oddly enough, this means that the Java group will now be responsible for Sun's Unix development tools. Baratz also takes control of the SunTest Java testing tools, which had not previously been part of JavaSoft.
And the JavaOS work, which had been done by SunSoft, will now move to a new division, called the Consumer and Embedded division -- headed up by Mark Tolliver.
Solaris everywhere
The idea is to let McFarlane's group focus on Solaris, and not the myriad of products that had come out of SunSoft in the past. "We actually shifted a substantial amount of work over to add value to Solaris," says McFarlane, "so increasingly things like security and so on were brought in under Solaris." Products like SunScreen EFS and Sun's LDAP directory services software will no longer be sold as standalone software.
And OEM (original equipment manufacturer) products like CheckPoint's popular Firewall-1 software eventually will be phased out, says McFarlane. As of July 1, he says, Sun has stopped compensating its sales force for selling the product. "Customers that insist on buying it from us...they can continue to buy [Firewall-1]," he notes, but adds "we're going to emphasize the Sun products."
Sun will also be phasing out its Domain Manager (formerly SunNet Manager) and Cooperative Console network management products. Though Sun once had the market lead in this space, it has of late ceded market share to products like HP's OpenView. "HP chose to put more features and functions [into OpenView] and cater to the corporate IT market," McFarlane says. "Sun chose to go after high-volume, high-scale platforms and target specific, very large enterprise markets, their system integrators, and the teleco and networking space."
The Solaris software group president stresses that, while no new development will be done on Domain Manager and Cooperative Consoles, his company will continue to sell and support the products for the forseable future.
Java, Java, Java
Though it will no longer work on the Java development tools, McFarlane's team will continue to support a large Java development effort, implementing the Solaris Java Virtual Machine and working to expose more and more Java APIs in the operating system. "You'll see us moving towards application server, Enterprise Java Bean implementations over the next couple of years," says McFarlane. He adds that support for enterprise-level APIs like JDBC (Java database connectivity) and JNDI (Java naming and directory interface) is also planned.
A large number of McFarlane's Chelmsford, MA developers -- best known for creating the PC-NFS software -- are now working on server-to-server interoperability with the Microsoft world. The Solaris president says that a number of Microsoft services are being targeted including COM, security and directory services, single sign-on, and authentication. "We're going to have to interoperate with whatever Microsoft brings out. Some of this technology, COM-to-CORBA interoperability, for example, will use Java as a bridge between the Microsoft and non-Microsoft worlds.
In the end, all roads lead to Solaris. Though the Solaris group will continue its electronic commerce, security, messaging, and Enterprise Manager development efforts, the vehicle for delivering these products will increasingly be value-added versions of Solaris. Sun is already shipping Solaris for Intranets, for the Enterprise, for the Desktop, and for ISPs. And Sun has more such modules planned. "One could hypothesize, for example, Solaris for Cable Companies," says McFarlane. "Solaris is really morphing to become an operating environment for enterprise-level computing, not a Unix OS. Rather than just trying to be the last best Unix, we're trying to be the next best operating environment."

Resources
---

If you have technical problems with this magazine, contact webmaster@sunworld.com
URL: http://www.sunworld.com/swol-07-1998/swol-07-mcfarlane.html
Last modified: