Click on our Sponsors to help Support SunWorld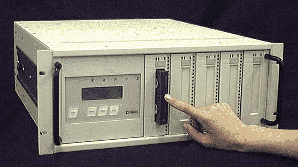 Product: RAPID-Tape (Starting at $21,536)
Company: ANDATACO (San Diego, CA)
Telephone: 800-334-9191; 619-453-9191
Fax: 619-453-9294
E-mail: inquire@andataco.com
URL: http://www.andataco.com
Description: Perfectly suited for UNIX servers and workstation environments with large on-line disk capacity and a small window of time for backup. Appearing to host as a single tape drive, RAPID-Tape delivers incredibly fast backups by harnessing the performance and capacity of an entire array of tape drives. Digital Linear Tape (DLT), 8mm and 4mm tape drives and advanced Redundant Array of Parallel Independent Tape (RAPID) technology are incorporated in a manner compatible with all major operating systems and backup software utilities. These arrays provide up to four times the capacity and data transfer rate of a single tape drive. With RAPID-Tape stacker systems, 1.1TB of unattended backup is possible.

If you have problems with this magazine, contact webmaster@sunworld.com

URL: http://www.sunworld.com/swol-07-1995/swol-07-np-rapid-tape.html
Last updated: 11 July 1995
--harnessing the performance and capacity
Click on our Sponsors to help Support SunWorld

If you have technical problems with this magazine, contact webmaster@sunworld.com
URL: http://www.sunworld.com/swol-07-1995/swol-07-np-rapid-tape.html
Last modified: