Click on our Sponsors to help Support SunWorld

| | |
| --- | --- |
| | |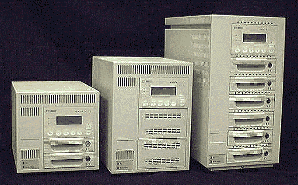 Product: RAID Lite (starting at $4,995)
Company: ANDATACO (San Diego, CA)
Telephone: 800-334-9191; 619-453-9191
Fax: 619-453-9294
E-mail: inquire@andataco.com
URL: http://www.andataco.com
Platforms: Solaris 1.x (SunOS 4.1.3) and Solaris 2.x (SunOS 5.3 & above) HP, SGI, IBM
Description: First of a new generation of RAID arrays affordable to small UNIX network or desktop users, yet powerful enought to service the I/O demands of large network servers. Incorporating a powerful RISC CPU and Fast Wide SCSI processors, RAID Lite delivers big performance for a small price. Supports RAID levels 0, 1, 0/1 and 5 write-back cache for quick response time with I/O intensive database applications; and support for Fast Wide SCSI interface disk drives for high data transfer rates. Available in desktop, deskside and rackmount enclosures, RAID Lite supports as many as 35 drives for up to 140GB of on-line storage capacity. Includes a client/server RAID Management Utility (RMU) with a common graphical user interface across multiple CPU and operating system platforms.

If you have problems with this magazine, contact webmaster@sunworld.com

URL: http://www.sunworld.com/swol-07-1995/swol-07-np-raid-lite.html
Last updated: 11 July 1995
--
Click on our Sponsors to help Support SunWorld

If you have technical problems with this magazine, contact webmaster@sunworld.com
URL: http://www.sunworld.com/swol-07-1995/swol-07-np-raid-lite.html
Last modified: