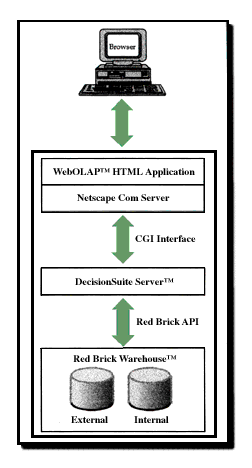 Product: WebOLAP Content Server - WWW access to data warehouse information (from $40,000)
Company: Information Advantage, Inc. (Minneapolis, MN)
Telephone: (612) 820-0702
Fax: (612) 820-0712
E-mail: info@infoadvan.com
URL: http://www.infoadvan.com
Platforms: Unix
Description: Allows WWW access to data warehouse information with capability to perform online analytical processing of structured database content. Gives capabilities for summarization and calculation on an ad-hoc basis via CGI interfaces. Functions as a completely preconfigured structured content server for intranets and the internet with scalabilty to thousands of users and terabytes of data. Dynamically recalculates data results from CGI-generated SQL database queries. Allows intelligent-agent capabilities to continually perform analysis and alert the user.

---

If you have problems with this magazine, contact webmaster@sunworld.com
URL: http://www.sunworld.com/swol-05-1996/swol-05-newproducts2.html
Last updated: 03 May 1996