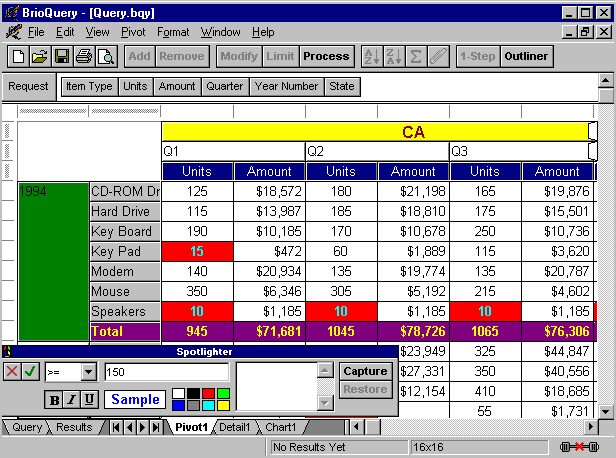 Product: BrioQuery Enterprise - decision support system (Navigator: Unix: $1,795; PC/Mac: $795; Designer: UNIX: $4,995; Mac/PC: $2,995)
Company: Brio Technology, Inc. (Mountain View, CA)
Telephone: (415) 961-4110
Fax: (415) 961-4572
E-mail: info@brio.com
URL: http://www.brio.com
Platforms: Solaris 1 & 2, AIX, HP-UX, Windows 95, Windows NT, Windows 3.X, Macintosh
Description: Features Anytime, Anywhere Analysis, the ability to perform multidimensional analysis off-line enabled by a desktop OLAP engine. With its new Open Metadata Interpreter, BrioQuery Enterprise has the ability to read existing metadata, thus eliminating dependence on proprietary metadata. Interactive Charting with three-dimensional color charts enabling drill-down, year-to-year comparisons, custom segmentation and true graphical multidimensional analysis. Visual Reporting produces powerful reports that combine analytical tables, PivotSheets and three dimensional charts. Built-in intelligence automatically focuses the embedded chart or PivotSheet to the right level of detail. BrioQuery Enterprise provides pre-defined style sheets and templates that allow for quick creation of persuasive, informative and impressive reports.

---

If you have problems with this magazine, contact webmaster@sunworld.com
URL: http://www.sunworld.com/swol-04-1996/swol-04-newproducts5.html
Last updated: 17 April 1996