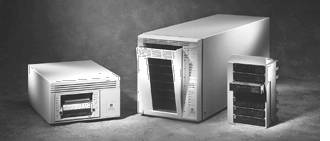 Product: DLT4700 - seven cartridge tape library ($14,500)
Company: Storage Dimensions (Milpitas, CA)
Telephone: (408) 954-0710
Fax: (408) 944-1200
E-mail: info@storagedimensions.com
URL: http://www.storagedimensions.com
Platforms: Solaris, HP-UX, AIX, Windows NT, Netware
Description: Seven cartridge tape library system featuring 7 GB per hour transfer rate, up to 280 GB of internal storage, daisy-chaining of 4 DLT-4700s for maximizing storage capacity, random access time of under 1 minute, 10,000 hour average tape head life, 400,000 tape swaps MTBF. Available in table-top configuration that can be shelf-rack-mounted. Comes with an equipment warrantee that provides replacement equipment within 24 hours.

---

If you have problems with this magazine, contact webmaster@sunworld.com
URL: http://www.sunworld.com/swol-04-1996/swol-04-newproducts1.html
Last updated: 20 March 1996