Click on our Sponsors to help Support SunWorld

Eric Schmidt goes to Novell: How will he help the troubled company?

Will Sun's chief technology officer strengthen Novell's Java focus?
San Francisco (March 18, 1997) -- Industry analysts were taken by surprise with today's announcement that Sun Microsystems's chief technology officer, Eric Schmidt, is leaving the company for Novell. After all, Novell seemed to be in need of a seasoned operational officer with experience turning around struggling companies like Novell. Instead, the Orem, UT-based company chose a chief executive officer with another, less tangible commodity it has been sorely lacking of late: vision.
Shao Wang, vice president of equity research at Smith Barney, admits he was surprised by the move, but adds, "having said that, I can understand it...if you think of the issues that are facing Novell, I think it becomes a more cogent thought." Wang says that Schmidt's networking and Java expertise and vision will help Novell as it tries to expand its market beyond the traditional "white-collar desktops" and into the lucrative mission-critical enterprise space. "For Novell a challenge is to make Netware more ruggedized," says Wang, and Java, with its write-once, run-anywhere interoperability is one way to do this. At Sun, says Wang, Schmidt has been better known for his ability to articulate and evangelize technology than to develop it.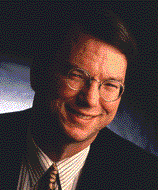 Novell clearly intends to make Java and the Internet the focus of its marketing efforts under Schmidt. Schmidt will appear at Novell's BrainShare technology conference next week in Salt Lake City, where Novell will announce Java enhancements to its ManageWise and GroupWise products. The company will also demo the beta version of its Java naming and directory interface, which allows Java applications access to Novell Directory Services (NDS). According to a Novell spokesperson, the company "intends to be a major player in Java and (was) very interested in Eric's background in the development of Java and promoting it as an industry standard." Novell is also promising announcements at the upcoming JavaOne show in San Francisco next month.
Novell's recent emergence as a Java supporter may also explain the apparently amicable departure of Schmidt, which was announced jointly by Sun and Novell -- an unusual move for Sun, given that Novell has just snatched away one of its most visible and respected executives. But then again, what's good for Java is good for Sun.
Wall Street seemed to think the move was positive for Novell. Its stock was up over 10% today, to 9 7/16. Schmidt will start as chairman of the board and chief executive officer on April 7.
--Robert McMillan
Click on our Sponsors to help Support SunWorld
Resources
---
If you have technical problems with this magazine, contact webmaster@sunworld.com
URL: http://www.sunworld.com/swol-03-1997/swol-03-schmidt.html
Last modified: